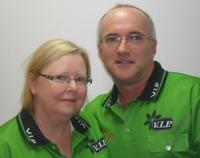 Ross Gough
Garden Maintenance & Lawn Mowing
Garden Maintenance & Lawn Mowing
in

Margate.

Hi, I'm Ross Gough, your local Garden Maintenance & Lawn Mowing franchisee in Margate.

I have been a V.I.P. franchisee since October, 2012. The thing I enjoy about owning my own V.I.P. franchise is working outside in our beautiful Queensland weather on the fantastic Redcliffe Peninsula.

Prior to owning my own V.I.P. franchise, I owned and managed our own Coffee Club Franchise with Jo.

Our VIP services include mowing, edging, gardening, trimming trees, minor landscaping, cleaning gutters, hedging, At the time I prepare your quote for your mowing or gardening needs it will include the removal of the grass clippings, unless you require otherwise.

The areas covered by our VIP Franchise include Redcliffe, Scarborough, Margate, Woody Point, Kippa Ring, Rothwell and Deception Bay. I have been referred to customers over the bridge at Brighton and up the highway to Caboolture.

Our customers include home owners, Body Corporate Unit Managers and Businesses who are proud of their properties and enjoy a freshly mowed lawn with a nice neat edge or freshly mulched gardens..

My enjoyment from our VIP Franchise comes from being able to stand back and look at each job completed, knowing it has been done with pride.

.
---
Please select the service you are interested in below: