Darren Heath - From uncertainty to a secure future with V.I.P.
---
Wanting to be in control of his career and have more time for his family, Darren made the change from employee to business owner with his own V.I.P. franchise.
During his time in the printing industry, Darren witness many changes and wanted him and his family to have a stable and solid future.
Being in charge of his own hours and having the flexibility to have a successful business and valuable family time meant the most to Darren.
Plus, having the flexibility to work around his wife's career of shift work was an important factor when deciding to purchase his franchise.
Having the opportunity to pick his kids up from school was something Darren strived for as he wasn't able to do this in his previous job.
As well as being a successful franchisee, Darren is a V.I.P. Field Support Coordinator. This means he is involved with training new franchisees as well as taking prospective franchisees out for a Day In The Field to show the prospect what life is like as a V.I.P. franchisee.
Darren's business growth and success as well as his hard work and dedication have been recognised with a nomination in the Franchising Council of Australia's Excellence in Franchising Awards where Darren was a state finalist.
"Since joining V.I.P. I have been given endless opportunities to spend more time with my family which I was never able to have in my previous employment. My V.I.P. franchise has made life easier for my family and has allowed me to work around my wife's career, which has given us both more time with our children."
"When I joined V.I.P. I could never have imagined the success I have achieved in my business and to have my hard work recognised with the award nomination has been a dream come true," said Darren.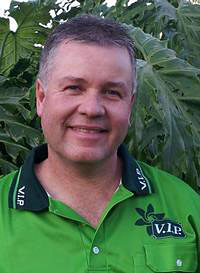 Make that change! Contact us to learn more about having your own V.I.P. franchise.