Mark and Danielle Aquino - Making a Change for the Better
---
Queensland - Home Cleaning

Mark and Danielle are the husband and wife working together to create a better lifestyle for their growing family.

Previously living in the Philippines, Mark worked as a dental hygiene technician and upon moving to Australia, found he had to start all over again. "It was tough having to start again in a new country," said Mark. After arriving in Australia, Mark took up a role sterilizing dental hospital instruments. "He used to just come home and shut down, he wasn't excited about his job at all," said Danielle.
"I woke up one day and just said I need something more," said Mark. Mark knew he wanted to be his own boss and set his own hours. "I wanted to be able to have that family life balance and make sure I could be available for those important moments in my child's life," said Mark. When they came across V.I.P. Home Services, it seemed like the perfect fit.
"We are good friends with another couple who are also V.I.P. franchisees – they would tell us about the fantastic success they were having with V.I.P." Said Danielle. "It was great having someone we really trusted helping us get involved with V.I.P."
Mark and Danielle joined the V.I.P. family in 2017 and wish they had done it sooner. After spending some time with an existing and experienced franchisee, they were given hands on experience during their day in the field and knew it was the right choice for them.
"Mark is so much happier and more confident now, he's back to his old self," said Danielle. "he comes home wanting to tell me all about his day and I can see he's completely engaged with his job."
Danielle works with Mark in the business administration side, handles customer care and feedback, updates their webpage, and handles the accounts and bookkeeping.
On making the change and owning a V.I.P. franchise, Mark says, "I love setting my own schedule rather than answering to someone else's."
"Not only that, but you have also got a well-known brand behind you and plenty of support whenever you need it, said Danielle. "My advice to anyone looking at joining V.I.P. would be work out your financial position, and then speak with your support manager. Having someone help us work out a plan to get started and know where we'd be going in those first few months – which can be scary for new business owners – was fantastic!"
If you want to invest in your future just like Mark and Danielle, call 13 26 13 or fill out an enquiry form today.
Learn more about Mark and Danielle and their business here.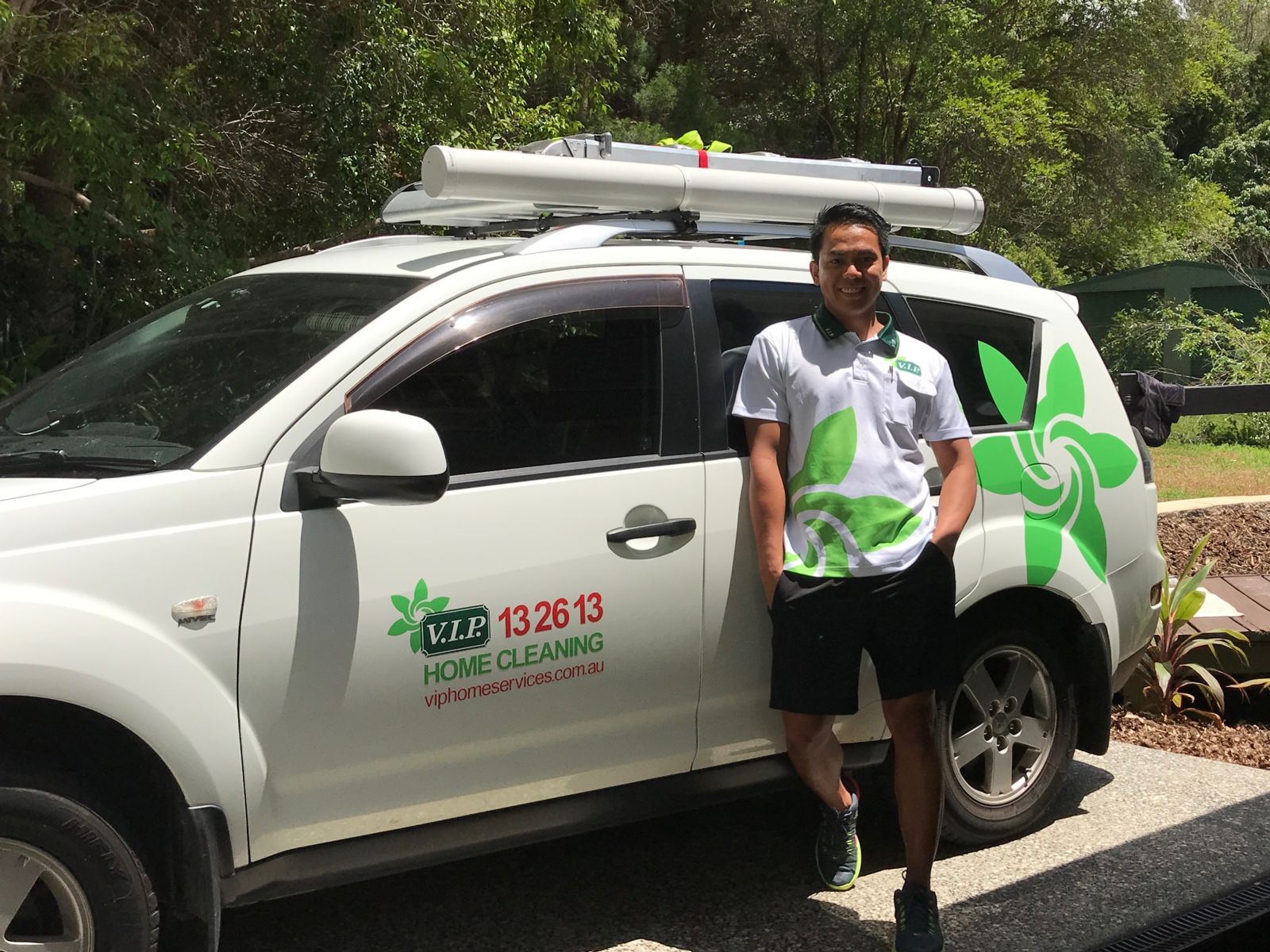 Make that change! Contact us to learn more about having your own V.I.P. franchise.