Request a quote. Your local franchisee will call you.
End Of Lease Cleaning Services in the Lockleys area.
If your lease is up and its time to move, then we can help!
The boxes, the packing, the realisation that you own more "stuff" than you ever thought possible all leads to feeling overwhelmed, anxious and stressed.
Then, there's the cleaning of the empty shell that is left behind.
Well that's something you don't need to deal with - that's what we're here for!
You simply take that last box with you and close the door. We can take care of the rest so you keep the landlord happy and get your bond back!
V.I.P. have been cleaning homes around Australia for more than 20 years. You can be guaranteed that our experience delivers the best results.
We can tailor a package to suit you, your needs and your budget.
A V.I.P. End of Lease Cleaning service includes:
Kitchen cleaning
Bathroom cleaning
Laundry cleaning
Mould removal
Vacuuming
Spring cleaning
Mopping
Dusting
Micro Fibre Cleaning
Window Cleaning
The use of Environmentally Friendly products
Additional services that can be provided include:
Carpet Cleaning
Window Cleaning
Oven Cleaning
Rentals and Airbnb Exit Cleaning a specialty
More and more people are investing in property these days, but with that comes the responsibility of keeping that rental property looking fabulous. And taking care of that Exit Cleaning in case your tenant hasn't done as great a job cleaning it as you had hoped.
If you're managing a number of rental properties or you've got a popular Airbnb property with lots of short-term visitors to continually clean up after, contact us at V.I.P. and talk to us about tailoring an Exit Cleaning Package specially for you.
Ideal for owners and renters
Whether you're the homeowner or you need to make sure that you get your bond back once you move out of your rental property, a V.I.P. Exit Cleaning Service really is the perfect solution.
So, once you've packed up, simply take that last box with you, close the door and walk away with a smile on your face.
We'll then take care of the rest so you can focus on your next exciting chapter — life at your new home.
No obligation, free quote
Our fully insured, police checked franchisees can provide you with a free, no obligation quote on a tailored package that suits your needs.
Why don't you let one of our V.I.P. franchisees take care of that stressful End Of Lease Cleaning for you?
Give us a call on 13 26 13.
News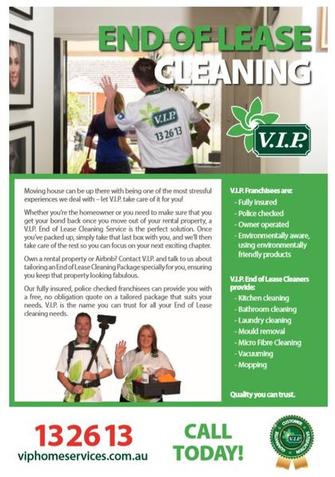 Are you moving out and need a clean? I can help.
10-Oct-2019