Request a quote. Your local franchisee will call you.
Garden Services, Maintenance & Lawn Mowing in the East Fremantle area.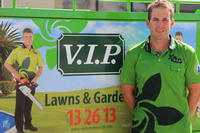 Like me on facebook
https://business.facebook.com/VIPLawnseastfremantle/?business_id=213679582550641
VIP East Fremantle Award Winner of the 2017 WA Single Unit Franchisee Of The Year, Less Than Two Staff ​
Proud Sponsor of the East Fremantle Junior Football Club
Proud Sponsor of the Cockburn Basketball Association
Happy Customers
My customers include homeowners, offices, strata companies, light factories, warehouses, child care centres, and real estate companies. All enjoy the high quality of my reliable work schedule.
I service East Fremantle and surrounding areas in beautiful Perth.
I currently have capacity to service more customers so please call 13 26 13 for a free, no obligation quote.
Lawns
You deserve a beautiful lawn without all the hard work involved. Let me do the work for you - it will be my pleasure!
A typical Lawn Maintenance plan includes mowing, edging, fertilising and weeding.
Ride On Mowing
Got a large area of grass that needs mowing? I own my own ride on mower so no job is to big for me to handle. Whether it is your own premises or company please contact me for a free no obligation quote.
Gardens
You deserve that your garden is the best it can be. I look after your garden like I look after my own.
A typical garden maintenance plan includes pruning, weeding, mulching and fertilising. I also consult with you on plant selection for the East Fremantle and surrounding suburbs climate and soil conditions.
Weed spraying
I hold a current weed spraying licence, which gives you the peace of mind that you have someone spraying that knows what they are doing. The chemicals that I use are not the local chemicals that you buy from Bunnings, they are high quality and they won't harm your lawns or plants.
Fertilisers
I have many high quality fertiliser products that I can talk to you about and get the results you want to achieve.
Gutter clean ups
Full gutters are a fire risk in summer and a flood risk wherever it rains.
No one wants to get in a fight with their insurance company - so get me to look after your gutters on a regular basis.
High pressure spraying
Do you have any paving, concrete liquid limestone or swimming pool areas that are looking a little old or dirty? A good clean does the job.
Mulching
I believe that it is so important to mulch regularly; not only does it give a great appearance but it's good for your gardens, saving water and keeping them moist for a longer period of time. Ask me about it, you never know what a good mulch job can do for your gardens.
Free no obligation quote
If you would like me to come by and give you a FREE, No Obligation Quote please don't hesitate to give me a call 13 26 13. Let me help you make your lawns and gardens look fantastic.
I look forward to meeting you!
I service East Fremantle 6158 and surrounding suburbs including:
Attadale 6156
Bateman 6150
Bicton 6157
Fremantle 6160
Melville 6156
Palmyra 6157
White Gum Valley6162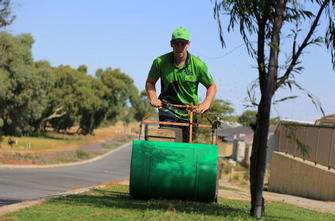 Please select the service you are interested in below:
Testimonials
From: Valuable Service
Many thanks for your valuable service, it has been excellent to deal with a professional with a high priority on customer service.
Joanne den Engelse
Attadale
---
From: Best Lawn In Street
Brad from VIP Home Services has been doing our lawns for a few months now and we couldn't be happier. Our lawn now looks the best in the street!
---
From: Professionalism and a "can do" attitude.
I contacted VIP looking for a Gardner to do something that was beginning to be a chore.
Along came Brad who is always demonstrating professionalism and a "can do" attitude.
My lawns have never looked better.
I will choose VIP Gardening anytime
Jane
Success 6164
---
From: Great Job
"I have recently enlisted the help of Brad to mow my lawns. He does a great job mowing, edging and importantly cleaning up afterwards….all for a reasonable price. Thanks for your help!"
Christian Ainslie
EAST FREMANTLE
---