Request a quote. Your local franchisee will call you.
Garden Services, Maintenance & Lawn Mowing in the High Wycombe area.
We provide lawn mowing and basic landscaping tasks. We recently re-landscaped the Harvey Norman Malaga complex and maintain both residential and commercial properties in quite a few areas. We have 2 trailers, 2 vehicles and two sets of equipment. We are also able to take on larger areas with our ride-on mower.
We also clean gutters and able to take on basic reticulation tasks.
We service High Wycombe 6057 ​and surrounding suburbs including:
Hazelmere 6055
Helena Valley 6056
Woodbridge 6056
Lawn Maintenance
You deserve a beautiful lawn. Let us save you some time that you can spend on other important things.
A typical lawn maintenance plan includes mowing, edging, fertilising and weeding. We will tailor this to your needs.
Garden Maintenance
We deeply believe that you deserve a beautiful garden to enjoy without having to spend a lot of time working on it that you can better spend with your family.
A typical garden maintenance program includes weeding, fertilising, pruning, mulching and we can advise on plant selection for your area.
Gutters
Full and blocked gutters are a fire risk in the Summer and a flood risk whenever it rains.
Full gutters can also end up transporting dirt, leaf litter and other rubbish into your rainwater tank which is not a good thing.
Let us look are the dangerous job of cleaning your gutters for you.
We can do it as a once off or as part of my normal garden and lawn maintenance plan.
No obligation free quote
When you request a no obligation free quote for your home, we will meet with you personally and go through your lawn and garden's needs so you can get exactly what you want for a fair price.
Give V.I.P. a call on 13 26 13 - we look forward to meeting you!
Photos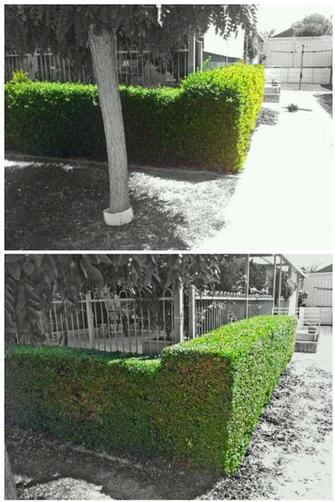 Hedging
Hedging done in High Wycombe