Request a quote. Your local franchisee will call you.
Garden Services, Maintenance & Lawn Mowing in Floreat and the Perth area.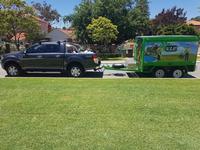 I can take care of all aspects of your lawn and gardening needs and I take pride in maintaining your lawns and gardens to the highest of standards, so all you have to do is just enjoy. I am dedicated to making sure that all of my customers are completely satisfied with the service I provide.
I service Floreat 6014 and surrounding areas in the beautiful city of Perth such as:
City Beach 6015
Connolly, Heathridge, Mullaloo, Ocean Reef 6027
Greenwood 6024
Kallaroo, Padbury 6025
Landsdale 6065
Leederville 6007
Northbridge 6003
Perth 6000
Wembley 6014
Banksia Grove 6031
I currently have the availability to provide a range of services to new and existing clients.
We are competitive with our rates and try our best to suit your budget.
So please call 13 26 13 for a free, no obligation quote.
Lawns
Everyone deserves a beautiful lawn without all the hard work involved. I am able to provide lawn services and maintenance using the best commercial equipment to create beautiful and flawless lawns.
The Lawn Maintenance Plan I provide includes mowing, edging, fertilising and weed spraying.
If you need to have a flawless garden to match that flawless lawn then I can also give your garden the face lift it needs. But regardless if you don't have lawn I can still provide gardening services to allow you to have a high quality garden without you having to get your hands dirty.
The typical garden maintenance plan I provide includes pruning, weed spraying, mulching and fertilising. I can also consult with you to choose a selection of plants to design and create a garden to suit your style.
I have the experience, tools and skills to provide you with precise hedge trimming to make your garden look sharp. I am able to shape and trim your hedges to keep them neat and tidy all year round. ​
Weed spraying
I hold a current weed spraying licence, which gives you the peace of mind that you have a trusted operator managing your weeds. The chemicals that I use are of a high quality and won't harm your lawns or plants and are applied in a safe and cautious manner.
Fertilisers
I offer many high quality fertiliser products that I can tailor to meet the needs and achieve the best results to allow your lawns and garden beds to thrive.
Gutter cleaning
Are your gutters full of leaves? Cleaning your gutters regularly is important to prevent possible fire risks during the hot months and prevent possible flooding during the wet months. I am equipped with the experience and tools to provide gutter cleaning services for single storey and multiple storey homes.
​Solar panel cleaning
​​Do you have solar panels on your roof? Have they been cleaned since you have had them installed? If they haven't then give me a call, I have a working at heights certificate which allows me to get on your roofs to clean your solar panels to keep them in perfect condition to soak up all that sunlight that we get here in Perth.
High pressure cleaning
I can give you an affordable service that will spruce up your drive way, footpaths or paving areas that are looking a little dirty.
Mulching
Mulching is an important step in maintaing and sustaining a healthy garden. Mulching regularly allows for garden beds to look fresh and allows your plants to stay well nourished for longer whilst saving water.
Rubbish Removal
As you would expect I remove the clippings and trimmings that I create when I have completed a service on your property. However if you have had a clean up on the weekend and can't dispose of the rubbish give V.I.P. a call and I'll be able to remove the rubbish for you at an affordable price.
Block Slashing
For the grass and weeds that have grown a bit out of control on vacant blocks I am able to use my brushcutter to cut down and clean up the area to get it looking ​fresh and organised again.
Commercial Lawn mowing and Gardening
Why not put yourself a step ahead of the competition by giving your customers the best first impression when they arrive outside your business. I am able to provide lawn services and maintenance using only the best in commercial equipment to create beautiful and flawless lawns and gardens.
The Lawn Maintenance Plan I provide includes mowing, edging, fertilising and weed spraying.
The Garden Maintenance plan i provide includes weeding, prunning, planting, mulching, pressure washing and rubbish removal.
If you would like me to give you a professional and FREE, no obligation quote please don't hesitate to give me a call on 13 26 13 ​and let me take the stress out of your lawns and gardens.
Call 13 26 13 for a free, no obligation quote. I look forward to meeting you!

Please select the service you are interested in below:
Photos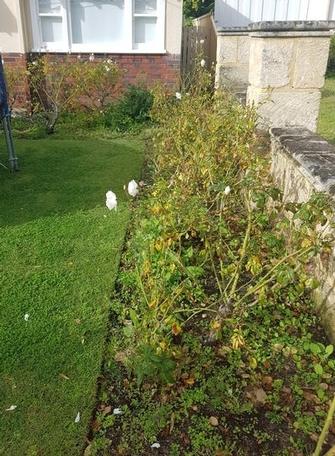 Rose pruning and garden bed clean up in Floreat (BEFORE)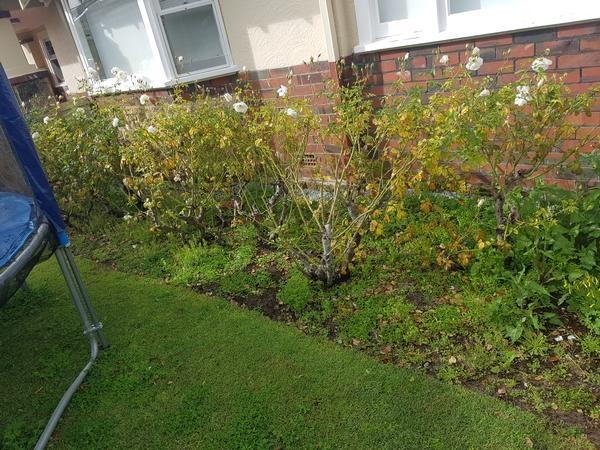 Pruning roses in Floreat (BEFORE)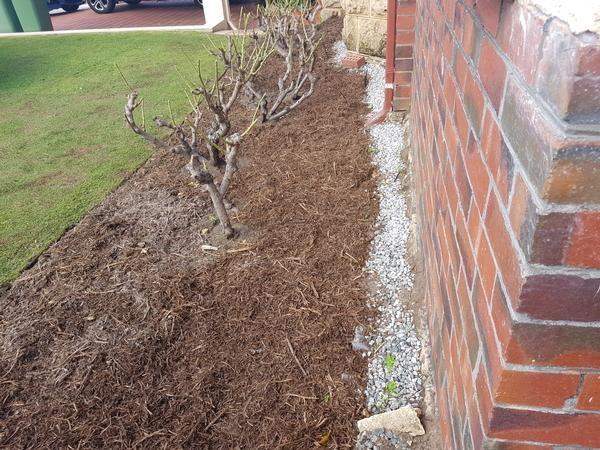 Pruning roses in Floreat(AFTER)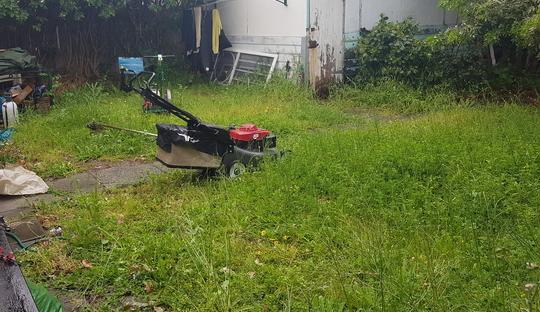 Lawn Clean up in Nedlands (before)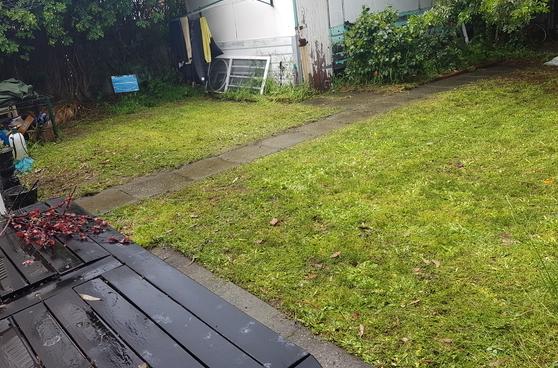 Lawn clean up in Nedlands (after)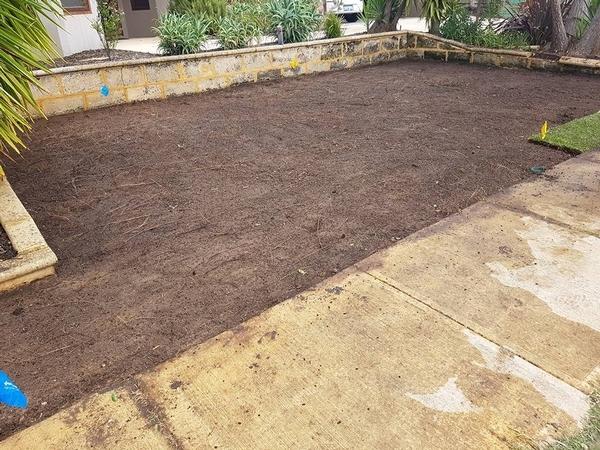 old lawn removed and ground prepared in Floreat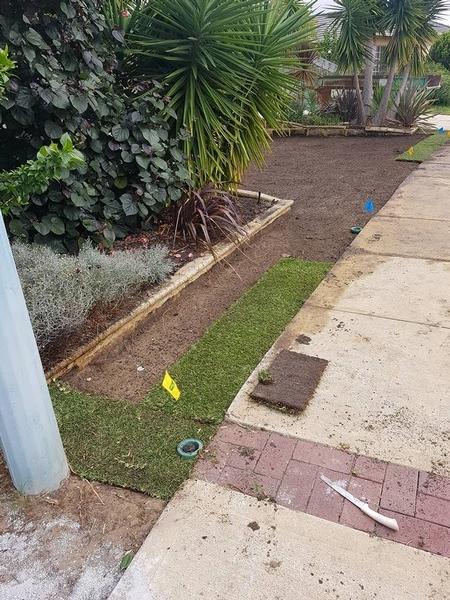 Laying new Palmetto Soft Leaf Buffalo lawn in Floreat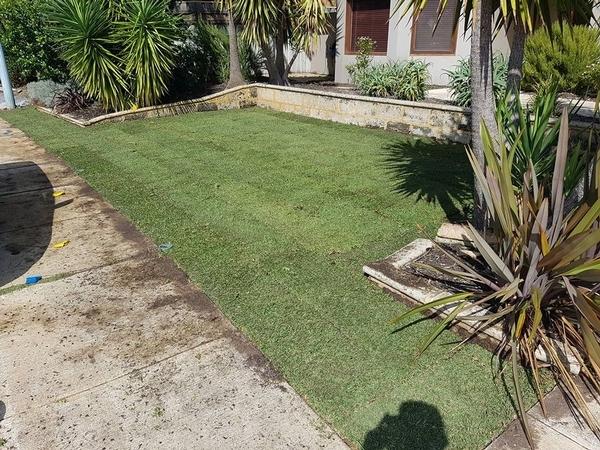 New lawn laid in Floreat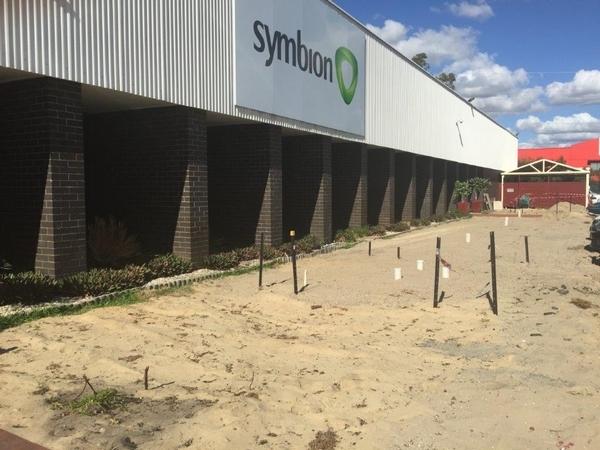 Symbion Landscaping (before)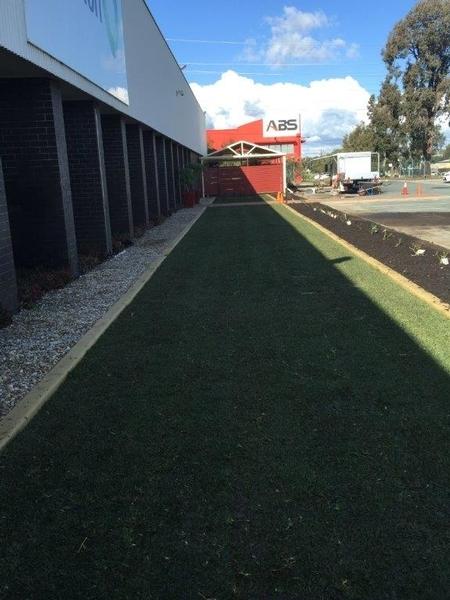 Symbion Landscaping (after)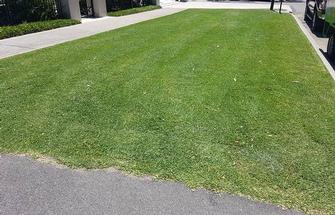 lawn mowing in Floreat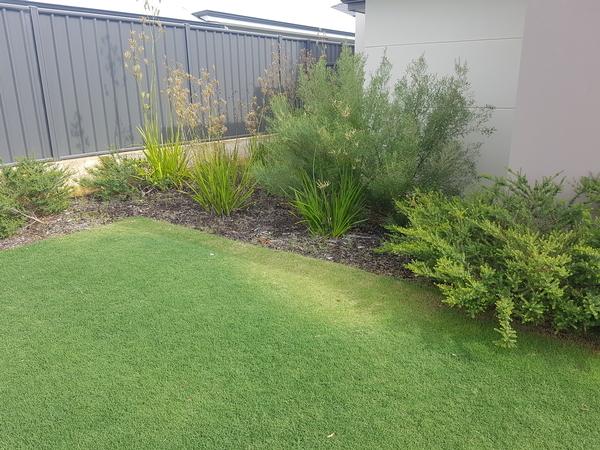 Pre Garden maintenance and clean up in Banksia Grove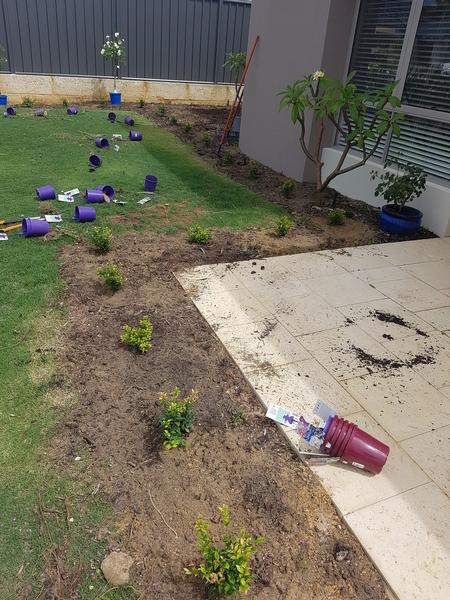 New Shrubs planted to grow into a small hedge in Banksia grove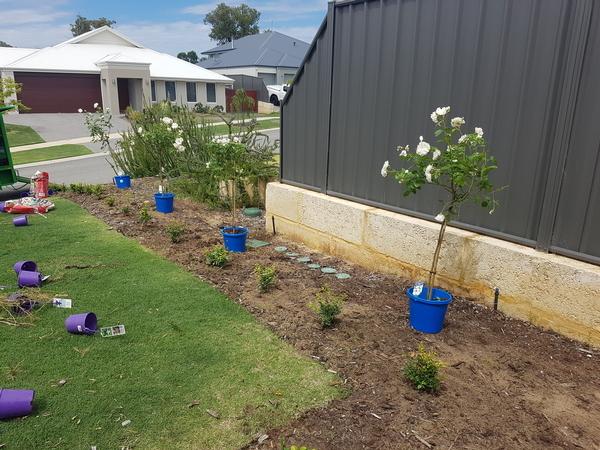 Roses ready and in place to planted before the mulch is layed in Banksia grove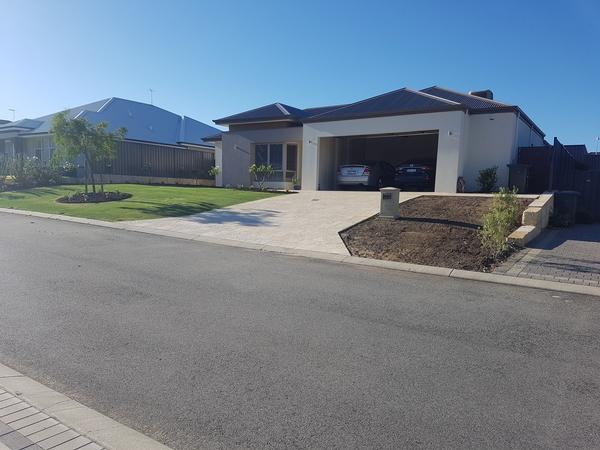 Shrubs and other plants are removed and the soil has been leveled out for a windsor green couch lawn to be laid in Banksia Grove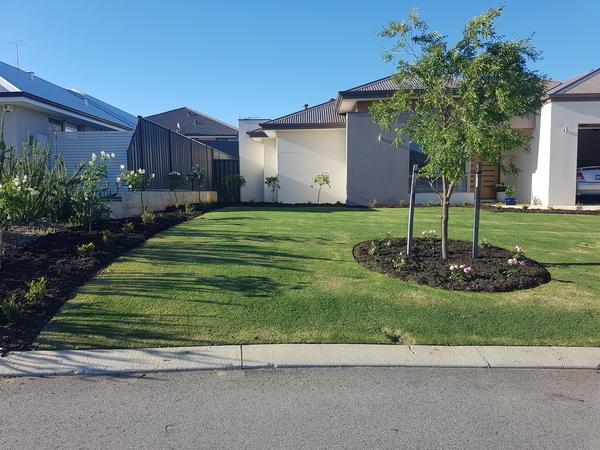 Roses planted and black mulch has been laid to give a clean and elegant look in Banksia grove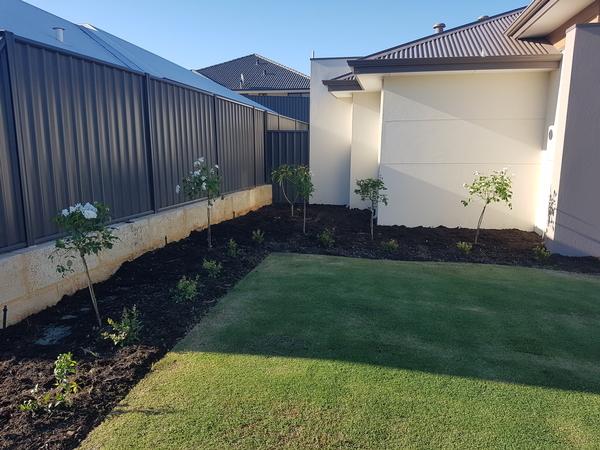 A fruit twist frangipani has been planted at the back where it can grow and give a beautiful frangrance around the garden in Banksia Grove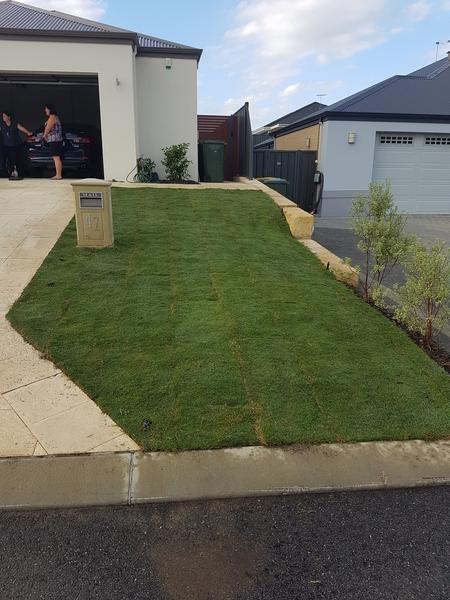 The Winsdor green Couch lawn has been laid an compacted to give the front garden the finishing touches in Banksia Grove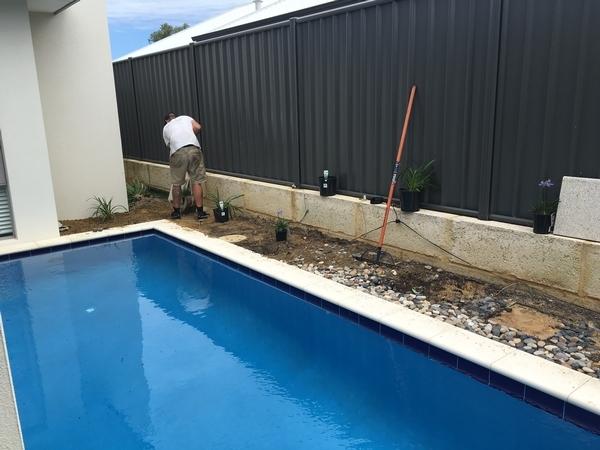 Around the pool area had its old plants removed and replaced with blue and white Agapanthus in Banksia Grove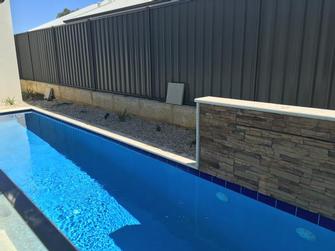 The pebbles have been removed and rainbow stone has been laid to give a low maintenance and clean garden bed around the pool in Banksia Grove
Testimonials
From: Fantasic job!
Hi Tristan,
We cant thank you enough for an outstanding job you have been doing on our property. You are constantly going above and beyond on the services you provide and would highly recommend you to anyone who are looking for garden maintenance and lawn mowing to their property.
Thank you again!
---