Request a quote. Your local franchisee will call you.
Garden Services, Maintenance & Lawn Mowing in the Scarborough area.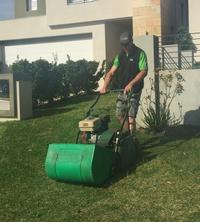 Lawn Maintenance
You deserve a beautiful, lush green lawn to be proud of and that the kids can play on.
Let us save you some time which you can spend on other important things.
A typical lawn maintenance plan includes mowing, edging, fertilizing and weeding.
No lawn too big - no lawn too small!
Garden Maintenance
A beautiful garden is a source of pride for you.
We want your garden to be the best it can be.
To that end we can prune, hedge, weed, fertilize and consult on plant selection for the Perth area and soil conditions.
Hedge Trimming
A well-pruned hedge is a source of pride and can be a feature for your home. Hedge trimming is our specialty.
If you have a tall hedge along your boundary or individual trees, we have the tools and the skills required to make your hedge look fantastic.
Gutters
Full and blocked gutters are a fire risk in the Summer and a flood risk whenever it rains.
Full gutters can also end up transporting dirt, leaf litter, and other rubbish into your rainwater tank which is not a good thing.
Let us look are the dangerous job of cleaning your gutters for you.
We can do it as a once off or as part of our normal garden and lawn maintenance plan.
Yard Cleanups and Rubbish Removal
Not only do we remove the prunings and trimming from the work we do for you, but if you have done your own cleanup or working bee, let us organize the rubbish removal.
No obligation free quote
Give V.I.P. a call for a no obligation free quote on 13 26 13. We look forward to meeting you.
Please select the service you are interested in below: