Request a quote. Your local franchisee will call you.
Garden Services, Maintenance & Lawn Mowing in the Woodvale area.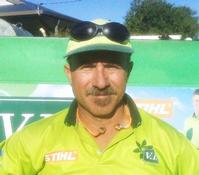 21 years of experience
With a Cert III in Horticulture, pesticide spray license & a working with heights accreditation, I'm the one to call for most things in & around the garden.
Happy Customers
My happy customers include home owners, land lords, tenants, real estate agents, government departments, sporting clubs, factories, warehouses and any industry that has an office with grounds or a garden.
I service Woodvale 6026 and surrounding areas such as:
Gnangara 6077
Hillarys 6025
Hocking 6065
Kingsley 6026
Lexia 6065
Pearsall 6065
You can contact me on 13 26 13.
Lawn Maintenance
You deserve a beauitful lawn.
Let me save you some time that you can spend on other important things. A typical lawn maintenance plan includes mowing, edging, fertilising and weeding.
I can even prepare and lay new lawns and have the appropriate approvals required for the intensive watering needs of a new lawn.
Garden Maintenance
All of my customers a proud of their beautiful, lush gardens. A well tended garden provides a perfect first impression ot your guests or to your ustomers.
Give V.I.P. a call to go through a maintenance plan for your garden. I'll discuss weeding, fertilising, pruning, hedging, mulching and plant selection with you.
I can also perform garden makeovers and landscaping - just like on TV!
Weed Spraying
I have a pesticide license for spraying weeds. This is usually a one time service.
Rubbish Removal
There is nothing better than getting the motivation to do a big cleanup.
Not only do I remove any of the cutting and trimming I create when I look after your lawn and garden, but I can also provide a rubbish removal service for any extra clean up you have done.
Gutters
Full gutters can be a fire risk in the hotter months and a flood risk whenever it rains.
If you notice your gutters are a bit full, give V.I.P. a call on 13 26 13.
Ride on mowing
I have a commercial grade ride-on mower that is perfect for mowing large areas of turf or small acreage.
I use the ride on mowers at schools,sporting clubs and workplaces with larger areas of lawn.
Hedge Trimming
A well pruned hedge is a source of pride for your home.
If you have a tall hedge along your boundary or individual trees, I have the tools and the skills required to make your hedge look fantastic.
Tree Work
If you have a tree that has got a little bit too enthusiastic with it's growth - give V.I.P. a call. I can do the minor trimming and looping required to make the tree behave itself.
No Obligation Free Quote
Call 13 26 13 for a no obligation free quote. I look forward to meeting you!
Employees
I have 3 employees working with me, with several vehicles and 2 trailers.
My employees are Jayden, Timo and Todd.
If you need any gardening done, please give VIP a call on 13 26 13.
Please select the service you are interested in below:
Photos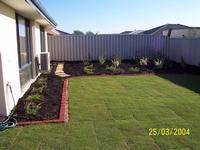 Landscaping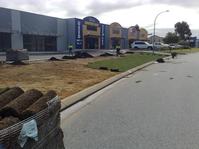 Turf Laying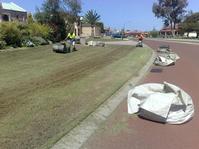 Maintenance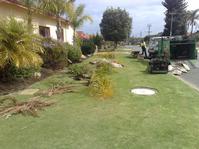 Garden/Lawnmowing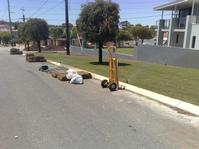 Reticulation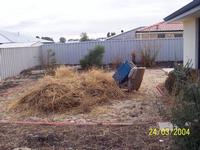 Garden Clean Ups