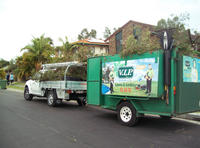 Kevin Poirier
Garden Services, Maintenance & Lawn Mowing
Garden Services, Maintenance & Lawn Mowing
in

Mount Warren Park.

Hi, I'm Kevin Poirier, your local Garden Services, Maintenance & Lawn Mowing franchisee in Mount Warren Park.

I have been a V.I.P. franchisee since Sep 2007. The thing I enjoy about owning my own V.I.P. franchise is The differences we make to a garden or lawn, or anything to do with our business, we feel like we are making a difference and to get a lot of satisfaction from our output.

Prior to owning our V.I.P. franchise Worked in the building industry as a carpenter's labourer covering all areas.

Happy Customers

Our happy customers include home owners, strata corporations, offices, retail shops, sporting clubs and government departments.

Call me on 13 26 13 for a free no obligation quote. We look forward to meeting you!

Lawn Maintenance

You deserve a beautiful lawn. Let us look after your lawn and make it the best it can be. A typical service will include mowing, edging, weeding, mulching and fertilising as required.

Garden Maintenance

All of our customers are proud of their beautiful, lush gardens.

Give us a call to go through a maintenance plan for your garden. We'll discuss weeding, fertilising, pruning, hedging, mulching and plant selection with you.

We can also perform garden makeovers and landscaping - just like on TV!

Cleanups and Rubbish Removal

If you've done a big effort in the garden last weekend, give us a call to safely remove the clippings, rubbish and extras that have been produced.

Our rates are very reasonable.

Hedge Trimming

A well pruned hedge is a source of pride for your home. Hedge trimming is our speciality. If you have a tall hedge along your boundary or individual trees, we have the tools and the skills required to make your hedge look fantastic.

Ride On Mowing

One of our favourite tools is the ride on mower. This makes short work of large areas of lawn. No turf job is too big or too small - give V.I.P. a call for a no obligation quote.

Free, No Obligation Quote

Call 13 26 13 for a free, no obligation quote. We look forward to meeting you!
---
Employees
---
Please select the service you are interested in below:
Photos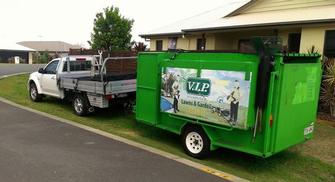 Our vehicles
Testimonials
Brendon Moore
Hello Kevin!
Thank you once again for your services today, I'm greatly appreciative - Brendon Moore
---
Jaimie Williams
Thanks Kev, terrific job as always. - Jaime Williams
---
Stephanie Lang
Thanks Kevin !!! It looked great.
Stephanie Lang - Ray White
---
Tracy Lawton
Hi Kevin
Thanks so much for the work you did at my house, it's really appreciated!
Tracy
---