Request a quote. Your local franchisee will call you.
House Cleaning Services in the Stanhope Gardens area.
I am fully committed to providing a reliable, professional and personal home cleaning service to my customers. Please contact me for a quote for your cleaning needs on 13 26 13. I currently have capacity to take on Regular Home Cleaning so give me a call.
I service Stanhope Gardens 2768 and surrounding areas such as:
Baulkham Hills 2153
Bella Vista 2153
Constitution Hill 2145
Girraween 2145
Glenwood 2768
Parklea 2768
South Wentworthville 2145
The Ponds 2769
Westmead 2145
Winston Hills 2153
Your Home is Unique
There is nothing better than getting home at the end of the day to a freshly cleaned home.
It is one of the most relaxing feelings I know!
Your home has specific cleaning needs. When you request a quote I will meet with you in person and go through the special requirements of your home's cleaning.
You can rest assured that you will be talking to the business owner who will actually be doing the clean meaning you will get exact what you require every time.
Good Communication
Once I commence cleaning your home, just leave a note on the kitchen table if required.
I know your cleaning requirements can change from time to time.
You can also call me on the mobile as well.
Attention to Detail
I pride myself on attention to detail in getting your home clean.
For example, many miss cleaning showers doors and moulds in the shower and around the sink.
This is one area that you know will get looked after when I clean your home.
Office Cleaning
Most of us spend most of our working life in an office, so we deserve to have our workplace as clean as our homes. When you choose me as your office cleaner, I provide the same service as if it was your home.
I will meet with you personally and go through your requirements with specific attention to the bathrooms, kitchens, wet areas, board room, reception and offices.
I provide a communication book to our corporate clients. When things change - then let us know via the Communication book - we read it at the start of every clean.
The Quote Process
When you enquire about a no obligation free quote by calling 13 26 13, I meet with you personally and go through, in detail, the cleaning needs of your home.
This is a great time to let us know any specific needs you or your family has for cleaning.
From there we provide a quote for your consideration.
Free, No Obligation quote
Call 13 26 13 for a free no obligation quote. I look forward to meeting you.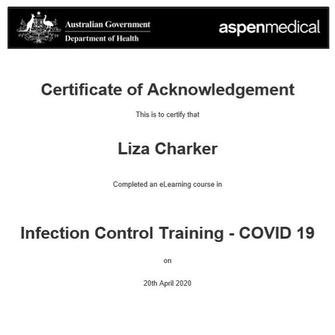 Please select the service you are interested in below:
News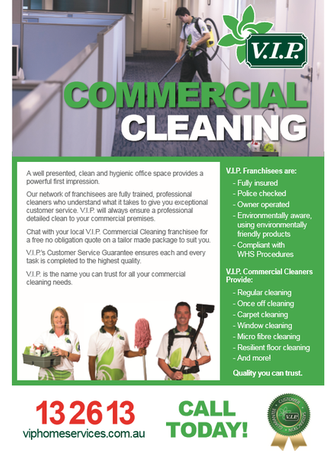 I can also do Office Cleaning so please give me a call.
20-Jan-2020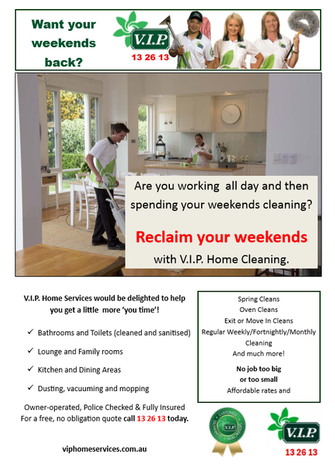 Need your weekends back instead of spending them cleaning?
20-Jan-2020
Photos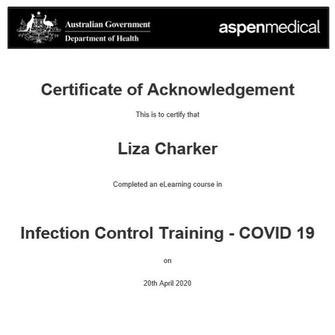 GOVERNMENT INFECTION CONTROL CERTIFIED (COVID-19) APRIL 2020