Request a quote. Your local franchisee will call you.
House Cleaning Services in the Katoomba area.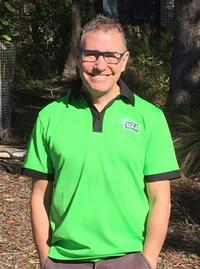 Home Cleaning
You deserve a clean home.
Let me take the chore of cleaning out of your hands so that you can spend more time with your family.
When you request a quote I will personally meet with you and go through all the specific needs of your home as well as the cleaning requirements that are general to all homes.
Give V.I.P. a call on 13 26 13 for a quote I look forward to meeting you!.
Oven Cleans a Specialty
Your oven needs a deep clean at least once a year to ensure it is working correctly.
A clean oven gets to temperature more quickly and stays at that temperature with minimum fluctuation.
This enables your cooking to be perfect!
Normally ovens need a thorough cleaning annually. Give V.I.P. a call on 13 26 13 for a quote on cleaning your oven.
Exit Cleans and Spring Cleans
Most landlords require a vacating tenant to organise an Exit Clean.
This is a thorough clean of the entire house to ensure it is ship shape for new tenants.
For a home owner you can order a once off deep and thorough clean.

These cleans take longer than a normal maintenance clean and are called Spring Cleans (although they can be done in any season!).
Window Cleans
I am able to provide a window cleaning service either as a once off or as part of the regular cleaning routine.
Free, No Obligation quote
Call 13 26 13 for a free no obligation quote. I look forward to meeting you!
Please select the service you are interested in below:
News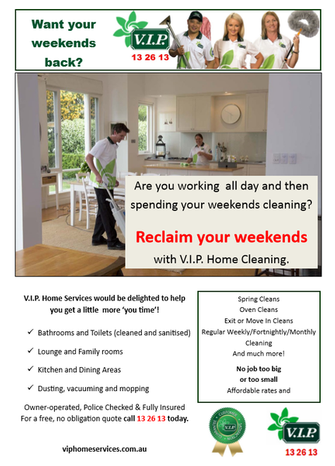 Need a home clean. I can help.
12-Mar-2019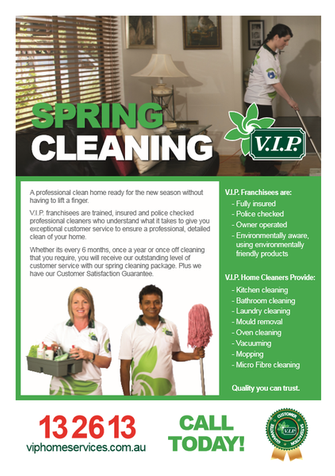 A spring clean can be done at any time of the year!
12-Mar-2019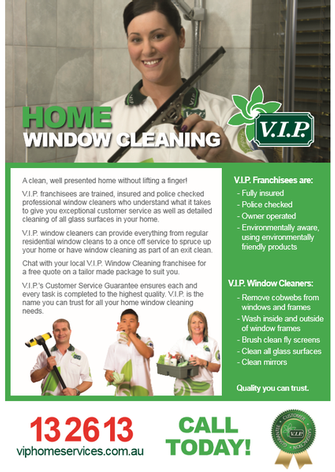 Need a window clean of your home? I can help.
12-Mar-2019