Request a quote. Your local franchisee will call you.
House Cleaning Services in the Belair area.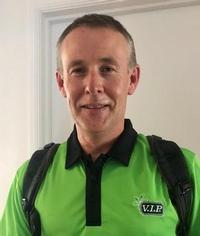 The Quote Process
When you enquire about a no obligation free quote by calling 13 26 13, I'll meet with you personally and go through, in detail, the cleaning needs of your home.
We'll discuss the cleaning needs of your kitchen, bathrooms, bedrooms, hallways, lounge rooms and any other rooms in your home.
Now is a great time to mention anything in particular about your home, like pets for example.
From there I'll provide a quote for your consideration.
Communication
If circumstances change or you need me to pay attention to a particular facet of your home, please leave a note on the kitchen table - I'll check this at the beginning of each clean.
I am also readily available via mobile for an emergency clean and are able to meet with you as needed (if we don't catch each other when I clean your home).
Oven Cleans a Specialty
A clean oven gets to temperature more quickly and stays at that temperature with minimum fluctuation.
Normally ovens need a thorough cleaning annually with a spruce up quarterly.
Give V.I.P. a call on 13 26 13 for a quote on cleaning your oven.
Exit Cleans and Spring Cleans
All landlords require a vacating tenant to organise an Exit Clean.
This is a thorough clean of the entire house or office to ensure it is ship shape for new tenants.
For a home owner these can be called Spring Cleans and are a thorough top to toe clean, usually done before implementing a routine cleaning program.
Window Cleans
I am able to provide single storey window cleaning services either as a once off or as part of the regular cleaning routine.
I use environmentally friendly cleaning chemicals while still getting your windows sparkling.
Free, No Obligation quote
Call 13 26 13 for a free no obligation quote. I look forward to meeting you!
Please select the service you are interested in below:
Testimonials
From: Jason Irwin Real Estate
Just wanted to say great job at all properties I gave you…..very very very impressed so thankyou very much.

Have a great day

Jason Irwin
Principal - Jason Irwin Real estate
---
From: Anon
Hi Scott, sorry for not writing back mate, we went straight out for dinner and I completely forgot to write back. The floors and shower look great, really happy with the job thanks again for that mate.
Thanks Scott, everything was great! Appreciate it.
---
From: Amanda-Kate
Thank you, place looks great. Cheers.
---
From: Anon
OMG....was going to message you after Kyra had gone to bed...just incredible...so very happy and can't honestly thank you enough...it was very lovely to come home to! Thank you sooo much, so neat and tidy also...so wonderful Scott!
---