Request a quote. Your local franchisee will call you.
House Cleaning Services in Robina and the Gold Coast area.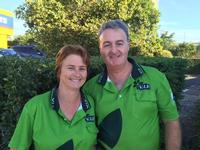 GOVERNMENT INFECTION CONTROL CERTIFIED (COVID-19) APRIL 2020
Happy Customers
Our customers include home owners from all walks of life. We service Robina 4226 and surrounding suburbs including:
Broadbeach Waters 4218
Currumbin, Currumbin Creek, Currumbin Valley, Currumbin Waters 4223
Cypress Gardens 4218
Elanora 4221
Florida Gardens 4218
Kirra 4225
Merrimac 4226
Rialto 4218
Rio Vista 4218
Robina Town Centre 4226
We really enjoy leaving homes clean and fresh.
Some of our customers have loved our work so much that they are getting us to clean their offices!
We still have clients that we have been cleaning for over 10 yrs!
Good Communication
When you request no obligation quote by calling
13 26 13
we meet with you personally and go through your home or work places cleaning needs.
We will discuss your requirements for the kitchen, bathrooms, lounge rooms, bedrooms, hallways and all other rooms in your house.
If anything changes, just leave a note on the kitchen table as required. We check it at the beginning of each clean.
We are available on mobile and can meet with you in person if we don't see you when we clean your home.
Small Office Cleaning
Most of us spend most of our working life in an office, so we deserve to have our workplace as clean as our homes. When you choose us as your office cleaners, we provide the same service as if it was your home.
We'll meet with you personally and go through your requirements with specific attention to the bathrooms, kitchens, wet areas, board room, reception and offices.
Free, No Obligation Quote
Call 13 26 13 for a free no obligation quote - we look forward to meeting you!
Please select the service you are interested in below:
Photos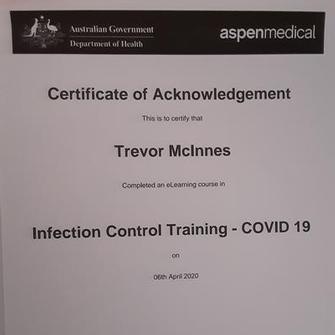 GOVERNMENT INFECTION CONTROL CERTIFIED (COVID-19) APRIL 2020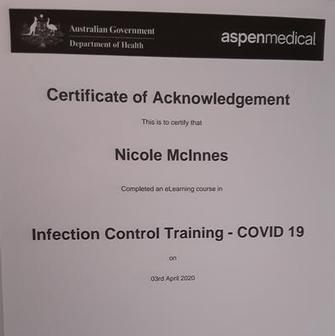 GOVERNMENT INFECTION CONTROL CERTIFIED (COVID-19) APRIL 2020
Testimonials
From: Trixie Gee
Trevor and Nicole have been cleaning our home for years, always do an outstanding job. They are genuine, trustworthy, kind people and take pride in their level of service. I would highly recommend them.
---
From: Robina OSHC
Trevor and Nicole have cleaned our office, bathrooms and childcare room of Robina Outside School Hours Care since 2011. We have not only enjoyed the professional cleaning job they provide but the friendly manner in which they work. Highly recommend Trevor and Nicole.
---
From: Maya
After moving into our house, I was after domestic assistance that is reliable, professional, giving attention to detail and trustworthy.
V.I.P. Robina caught our eye, which is the area we live in.
Within no time after asking for a quote, Trevor and Nicole called me back within the next day and we met and went through what was required.
Being from Europe, we grew up with an expectation of attention to detail, respect, reliability and precision as well as punctuality, Trevor and Nicole deserve the Gold medal. The are also lovely people and we have never looked back.
Highly, highly recommended, don't go searching any further, they are real people and the ultimate in the service they provide as well as being just the most lovely, professional couple who are totally dedicated to their clients.
We are more than happy and we are not easy to please, Trevor and Nicole.... simply the best!!
---
From: Julia
Trustworthy, reliable service that we have fortnightly. Highly recommend.
---
From: Charles and Kerry Dickson
This letter is to introduce Trevor and Nicole McInnes who have cleaned our home on a fortnightly basis for the past four years. Previously, they had also cleaned for our family.
In the time that they have worked for us we have found them both to be honest, reliable and where necessary, flexible to fit in with our vacation arrangements.
We are happy to recommend them to others requiring their services.
---
From: Lisa
Trevor and Nicole have cleaned our home for over 5 years and in that time have always been professional and friendly . We appreciated their services so much we kept them even when we moved houses. I feel comfortable having them in our home if we are there or away. They are a reliable and efficient team.
---
From: Natalie
I would highly recommend Trevor and Nicole as home cleaners. They are reliable and thorough. They also notice things that need to be cleaned that are not on their regular list, and take initiative to clean them. I was thrilled to come home one day to find they had cleaned our white dining chairs, which were not previously looking so white with three kids in the house. They are also great communicators and readily accept feedback.
---