Request a quote. Your local franchisee will call you.
Commercial Cleaning Services in the Rydalmere area.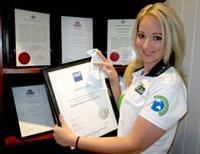 Please select the service you are interested in below:
Testimonials
From: MPN GROUP PTY LTD
Our company moved into a new building and thanks to our VIP cleaner, it still looks brand new. She is efficient and friendly while being professional at all times. She is very understanding of our cleaning requirements and nothing is too much trouble. The fresh clean scent is calming during a hectic day in the office. Our VIP cleaner is great.
Margaret Jackson JP
Group Accountant
---
From: BCA Consultants (Qld) Pty Ltd
Annette Grant was our Commercial Cleaner at BCA Consultants in Queensland for over 8 years. Our office and amenities were always cleaned to an exceptional standard. As well as being an excellent commercial cleaner, Annette is a very trustworthy person. BCA would have no hesitations in recommending Annette's services and if she was ever to locate back to Queensland we would love to have her services back.
Jo Houseman (Senior Administrator) on behalf of BCA Consultants (Qld) Pty Ltd
---
From: Orientique Fashions
Orientique Fashions is a Fashion Design / Wholesale Business based in Brisbane Queensland
In December 2009 we made the decision to look for some outside help to clean and maintain our commercial premises as our team had expanded & we were having problems with daily cleaning & the general standards of cleaning throughout our building.
With regular Customer Presentations conducted on site it was critical that our premises were always in first class condition. Being a small-medium business, managing the expense spend is always something we do carefully.
We decided to use V.I.P. Commercial Cleaning services & Annette Grant was responsible for our weekly Office & Showroom clean. Annette held the Keys & the alarm code to our premises so that access out of hours was no problem.
I must admit that when we heard that Annette was leaving for Sydney we were a little disappointed because our premises were always maintained to the highest level.
It has made a significant change to all of us having a workplace that is always well maintained & coming to work in a clean fresh environment is a pleasure.
I can highly recommend Annette Grant to anyone considering using Annette's services. Her honesty, enthusiasm, energy & commitment to having happy customers is first class.
I have no doubts that these attributes will be the reason Annette is successful in her Business endeavours.
Yours sincerely
Tom Tindall
Managing Director
Orientique Fashions
---
From: Dr Stephen Ohlrich, Specialist Ophthalmologist - Julie Rose
My name is Mrs Julie Rose and I have been the practice manager for Dr Stephen Ohlrich, Specialist Ophthalmologist in Coorparoo Brisbane for the past 6 years.

I would like to give a reference for Ms Annette Grant - V.I.P. Commercial Cleaning.

Ms Grant was our practice cleaner for several years. We have a commercial building which includes specialist examination rooms, test performance rooms, operating theatre, patient waiting room, and of course bathrooms and a staff kitchen area. Annette did all the cleaning of the entire office building once a week.

She was a very punctual and loyal worker with a strong work ethic and no task was too large if asked of her. I found her to be very trustworthy and ethical when working in a sensitive medical environment. Her work was very efficient, speedy and of a high quality. I never had a reason to ever speak to her of any cleaning deficiencies. On a personal level she was always perfectly groomed, well spoken and of a lovely demeanour.

I would always highly recommend Annette as a very competent and skilled worker and wish her luck in her future ventures.

Yours sincerely


Mrs Julie Rose
Practice Manager
---
From: Torres Pilots Pty Ltd
Our Company have used the services of V.I.P. Commercial Cleaning since 2003. Annette has provided a reliable, efficient and friendly service throughout this time. She conducts herself in a very professional manner and trust her implicitly with the security of our property. Annette is always flexible and accommodates changes to our cleaning arrangements when necessary. We would have no hesitation in recommending Annette to look after the cleaning of your commercial premises.
Connie
Torres Pilots Pty Ltd
---