Request a quote. Your local franchisee will call you.
Garden Services, Maintenance & Lawn Mowing in the Epping area.
GOVERNMENT INFECTION CONTROL CERTIFIED (COVID-19) APRIL 2020
Happy Customers
My customers include Home Owners from all walks of life, Real Estate Agents, Body and Strata Corporations, Renters, Light Industrial Premises and Commercial premises.
I service Epping and surrounding areas and can be contacted on 13 26 13.
I currently have capacity to take on regular or once off work.
Lawn Maintenance
You deserve a beautiful lawn that is the pride of your home. A typical lawn maintenance job involves mowing, edging, weeding and fertilising.
Give V.I.P. a call on 13 26 13 for a chat about your lawns needs.
Garden Maintenance
I want your garden to be the best it can be. I will set your garden up with a garden maintenance plan which will taking in your garden's weeding, pruning, fertilising and mulching needs, as well as the Epping soil conditions.
I can also consult on plant selections that will make your garden water wise.
Hedge Trimming
Hedge trimming is my speciality. If you have a tall hedge along your boundary or individual trees, I have the tools and the skills required to make your hedge look fantastic.
Yard Cleanups and Rubbish Removal
Not only do I remove the prunings and trimming from the work I do for you, but if you have done your own clean up or working bee, let me organise the rubbish removal.
No Obligation quote
Call 13 26 13 for a no obligation quote I will meet with you personally to get your gardens exacting needs. So give V.I.P. a call - I'm looking forward to meeting you!
Please select the service you are interested in below:
Photos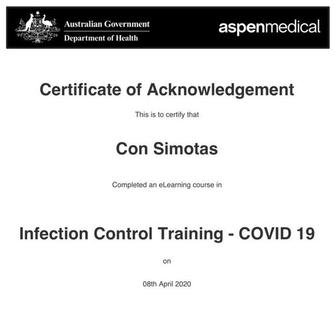 GOVERNMENT INFECTION CONTROL CERTIFIED (COVID-19) APRIL 2020