Request a quote. Your local franchisee will call you.
Garden Services, Maintenance & Lawn Mowing in the South Bunbury area.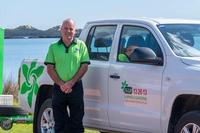 Lawn Maintenance
You deserve a beautiful lawn.
Let me save you some time that you can spend on other important things.
A typical lawn maintenance plan includes mowing, edging, fertilising and weeding.
Garden Maintenance
I want your garden to be the best it can be.
A typical garden maintenance plan includes pruning, weeding, mulching and fertilising.
I also consult with you on plant selection.
Gutters
Full and blocked gutters are a fire risk in the Summer and a flood risk whenever it rains.
Let me look after the often dangerous job of cleaning your gutters.
I can do it as a once off or as part of my normal garden and lawn maintenance plan.
Hedge Trimming
A well pruned hedge is a source of pride for your home.
There is a quiet pleasure in looking down the line of a freshly trimmed hedge.
If you have a tall hedge along your boundary or individual trees, I have the tools and the skills required to make your hedge look fantastic.
Rubbish Removal
I remove the cutting and trimmings of the normal work I do for you, but if you have a cleanup on the weekend, give V.I.P. a call on 13 23 13 and I can arrange the removal of the rubbish for you.
Happy Customers
When you request a no obligation free quote, I will meet with you personally and go through your lawn and garden's needs so you can get exactly what you want for a fair price.
No obligation free quotes
All my quotes are provided free of charge with no obligation.
Give V.I.P. a call on 13 26 13 - I look forward to meeting you!
Please select the service you are interested in below:
Testimonials
From: Ted
" I manage a local distribution business which has both wholesale and retail offers, street appeal is paramount for first impressions for our existing and potential customers. I have contracted Ian from V.I.P. to maintain the yards of both of our Bunbury sites and have found him to be very professional in his approach to maintaining the lawns, garden and reticulation on both properties. Ian is very well presented with a great friendly nature and is always open to discussion on how best to present the business, I can't recommend Ian highly enough whether you require small home garden care or large commercial yard maintenance. "
---