Request a quote. Your local franchisee will call you.
Garden Services, Maintenance & Lawn Mowing in the Rockingham area.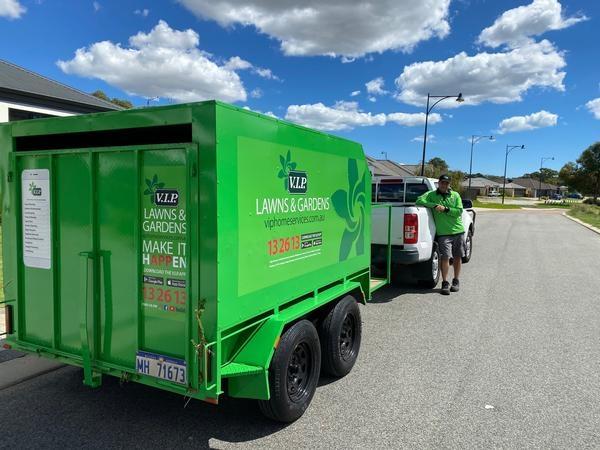 As a V.I.P Franchisee, we are:
Fully Insured
Police Checked
an Owner-Operator
I also hold a Certificate 3 in Horticulture.
Lawn Maintenance
You deserve a beautiful, lush green lawn to be proud of and that the kids can play on.
Let me save you some time which you can spend on other important things.
A typical lawn maintenance plan includes mowing, edging, fertilising and weeding.
No lawn too big - no lawn too small!
I provide V.I.P service for Lawn Mowing in Rockingham and surrounding areas including Kwinana.
Garden Maintenance
A beautiful garden is a source of pride for you.
I want your garden to be the best it can be.
To that end I can prune, hedge, weed, fertilise and consult on plant selection for the Rockingham area and soil conditions.
Hedge Trimming
A well pruned hedge is a source of pride and can be a feature for your home. Hedge trimming is my speciality.
If you have a tall hedge along your boundary or individual trees, I have the tools and the skills required to make your hedge look fantastic.
I provide Hedge Trimming in the Rockingham area and surrounding suburbs.
Rubbish Removal
Not only do I remove any of the cutting and trimmings I create when I look after your lawn and garden, but I can also provide a rubbish removal service for any extra clean up you have done.
This is a great service to ensure that your home or workplace remains as tidy as it can be.
If you need a yard tidy, yard clean up or garden clean up in the Rockingham area, I can help.
No obligation free quote
When you request a no obligation free quote for your home, I will meet with you personally and go through your lawn and garden's needs so you can get exactly what you want for a fair price.
Give V.I.P. a call on 13 26 13 - I look forward to meeting you!
Please select the service you are interested in below:
News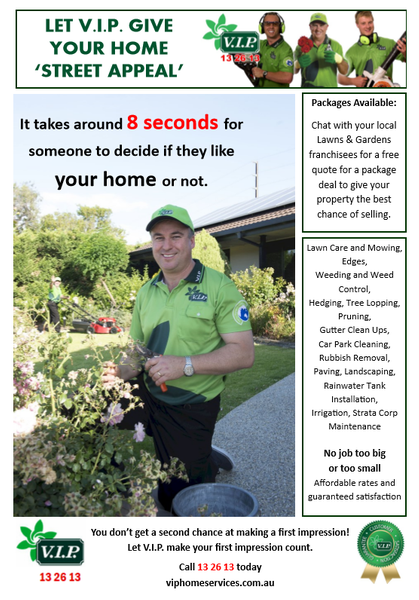 Are you selling your home and need a garden tidy?
29-Apr-2021
Need some Mulching? I can help with this.
29-Apr-2021
Photos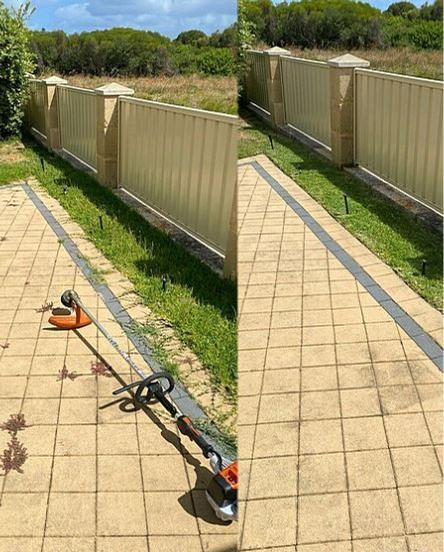 Lawn mowing in Rockingham - before & after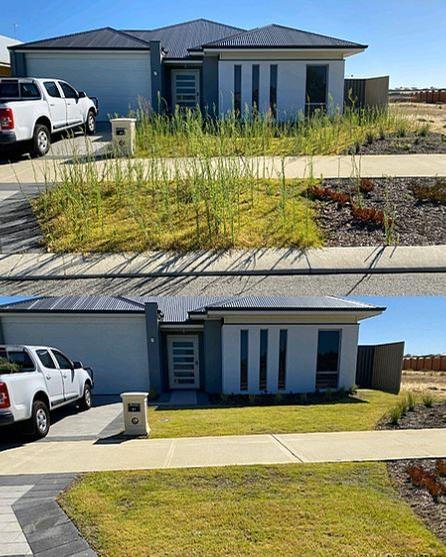 Lawn mowing in Rockingham - before & after
What a difference!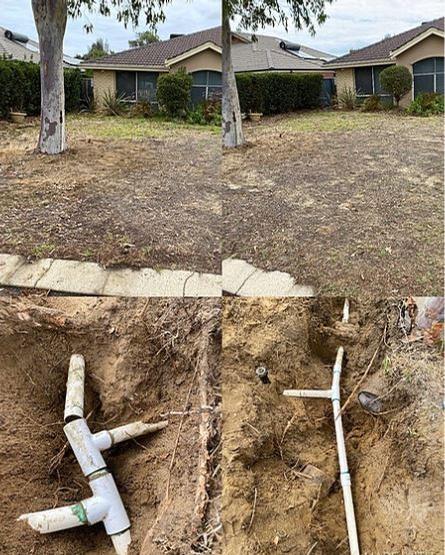 Reticulation repairs & Hedge Trimming in Rockingham - before & after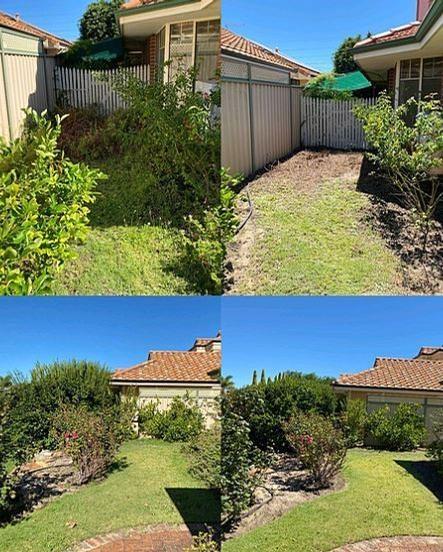 Garden Tidy Up & Lawn Mowing in Rockingham - before & after
Testimonials
From: Kaylah B - Gardening
Kel did an amazing job on my gardens, everything I wanted/expected + more. Couldn't recommend enough!
---
From: Jon E - Spreading Mulch and Trimming Plants
Awesome job. Understood what had to be done and just got on with it. Would recommend.
---
From: Tracy T - Removing Weeds & Plants from Garden Bed
Kel was amazing. It was a big job and he worked very hard to get it done. I would highly recommend Kel.
---
From: Geoff J - Garden Weeding
Kel did a great job, fast, friendly and efficient, he did what was asked of him and a little more.
---
From: Fiona M - Garden Tidy Up
Very efficient and friendly. Comes fully equipped for the task required. Definitely recommend him.
---
From: Kimberley L - Garden Clean Up
Not only super lovely, he did an absolute wonderful job! I have never seen someone work as hard as he did for the entire 5 hours! Thank you Kel!
---
From: Mat T- Lawn Mowing & Edging
Excellent job, 100% professional and efficient, I'd highly recommend Kel to anybody looking for an excellent garden man. Thank you mate see you next time.
---