Request a quote. Your local franchisee will call you.
Garden Services, Maintenance & Lawn Mowing in the Athelstone area.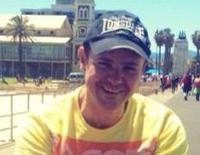 GOVERNMENT INFECTION CONTROL CERTIFIED (COVID-19) APRIL 2020
My business guarantees you will be happy. I have a large amount of both residential and commercial customers servicing the East and North Eastern suburbs. Below is a list of services I provide.
Professional Lawns Maintenance
Give your lawns the VIP treatment. Having a good lawn is a combination of many things ranging from watering, fertilising and mowing. If you want to take pride in your lawn , give us a call for a no obligation quote 13 26 13.
Ride On Mowing Service Available
Commercial and resedential ride-on mower service. I am happy to service sites like:
School Ovals
Large areas of Turf
Large industrial and commercial sites
Vacant block maintenance
Retirement Villages
Factories
Playing fields
any large areas of lawn
Irrigation
Make sure you are looking after your plants. I can install and do maintenance on all types of irrigation including drippers,sub surface irrigation,controllers and sprinklers.
New plants and garden design
Looking at just replacing a few plants, starting up a vegetable patch or having a full make over, I can assist you in getting the garden you desire. Check out my photos for a look at some of my work.
Hedge Trimming
There is nothing better than looking down the line of a neatly trimmed hedge. If you have a hedge that you want to encourage, give V.I.P. a call. Not only can I perform the regular trimming a nice hedge requires but I can also consult on fertilising and weeding of your garden to ensure you have the beautiful garden you deserve.
Gutter Cleaning
Badly clogged gutters can be a fire risk and can cause damage to your house. Let the experts clean out your gutters.
No Obligation quote
When you call on 13 26 13 for a no obligation quote I will meet with you personally to get your gardens exacting needs. So give V.I.P. a call - I'm looking forward to meeting you!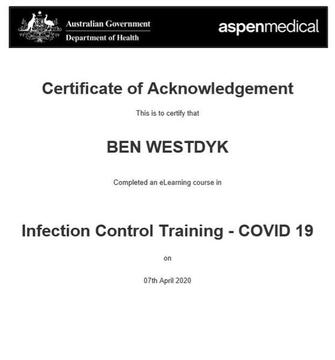 Please select the service you are interested in below:
Photos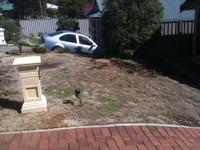 Lawn and sub surface irrigation
Does your front lawn look like this home in Athelstone?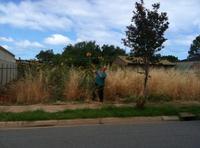 Empty Block
Has your empty block been invaded by weeds? Got the local council on your back? This was a block I got asked to clean up in Athelstone, Adelaide, South Australia.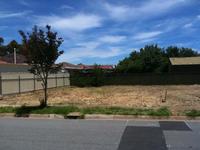 Empty Block
A quick phone call to V.I.P. Garden Maintenance and Lawn Mowing services in Athelstone and it will look like this. You'll have the council off your back, and you can begin thinking about getting the builders in to build your perfect house... complete with instant lawn, roses, fruit trees, hedges, landscaping and the complete garden makeover package provided by me. If you would like a quote for your gardening needs, please fill out the enquiry form on the right hand side of this page, or call our Adelaide based Customer Care Centre on 13 26 13.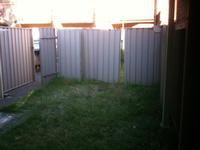 Transformation
A customer in Mile End that wanted a transformation of the rear yard.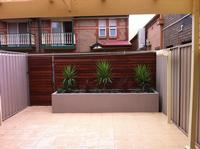 Transformation complete
The finished product of the rear yard which started out as just a lawn but turned into a rear oasis with paving, lighting, irrigation, rendered garden bed, plants and timber slat wall.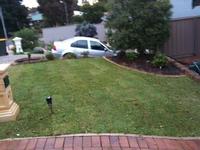 Lawn and sub surface irrigation (4th photo)
Instant lawn is laid on top of the sub-surface irrigation and the nutrient rich soil. This lawn will require less than 2 hours of watering a week, and should stay green and lush all year round.
Applying instant turf is a much better way to go than installing fake turf, and cheaper. Fake turf is plastic and rubber, meaning that during hot months it will be to warm to walk on. Cleaning fake turf is also a problem, because you cant vacuum it - it must be brushed with a broom (this takes longer and is more of a pain than actually mowing the instant lawn).
Fake turf will only last a number of years before requiring replacement due to the colour fading and the product looking daggy. Instant lawn will last a lot longer, and it provides oxygen.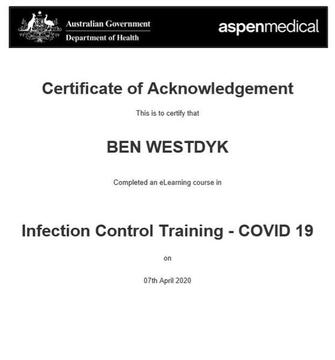 GOVERNMENT INFECTION CONTROL CERTIFIED (COVID-19) APRIL 2020