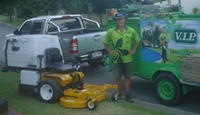 Mike Johnson
Garden Services, Maintenance & Lawn Mowing
Garden Services, Maintenance & Lawn Mowing
in

Mango Hill.

Hi, I'm Mike Johnson, your local Garden Services, Maintenance & Lawn Mowing franchisee in Mango Hill.

I have been a V.I.P. franchisee since 2005. The thing I enjoy about owning my own V.I.P. franchise is making my clients' yards look great. It gives me a sense of pride.

Prior to owning my own V.I.P. franchise I was a sheetmetal worker and landscaped on weekends.

I provide a lawn and garden service for all your needs, from beautiful vertical edging, correct height mowing for optimal lawn health, clean line hedging to shaping your hedge to whatever shape you desire, and more.

I can renovate your lawn to bring it back to health and provide a long term plan to keep it that way. I can detect pests and diagnose any diseases you may have in your lawn or garden and provide a remedy.

I also do all forms of landscaping, hard and soft, and I can offer some ideas, and help with plant selections for climate areas. I also provide yard cleaning and trees services .

I have a great bunch of suppliers who deliver wonderful service to me so that I can pass excellent service on to you.

My mission is to make your yard look great for whenever you want to enjoy your free time with out having to lift a finger and just relax.

With Thanks

Mike V.I.P.
---
Please select the service you are interested in below:
Photos
Lawn renovation and stand up bar
Lawn renovation and stand up bar as requested.
Testimonials
Jeanette McGown yard renovation
"Mike Johnson did a terrific garden make-over at my home. He offers professional advice on plants and the overall look of the garden, or he has the right contacts to source further information. Mike is also concerned about the ongoing maintenance of the garden and lawn to keep it looking attractive. He delivers a full garden service that I found others advertised, but actually don't provide.

Mike comes across as genuine, and he is courteous and reliable. I have no hesitation in recommending him if you are looking for any gardening or general work around your home."

Jeanette
---