Request a quote. Your local franchisee will call you.
House Cleaning Services in the Alkimos area.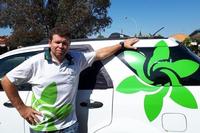 Hello everyone, and welcome to my website!
My name is Maxim Ponomarev, and I've been a V.I.P. franchisee since 2014 and today have clients almost in all areas of Perth (from Baldivis to Alkimos and from Claremont to Forrestfield) .
I created this site not only to promote my services, but also as a way to communicate with my current and future clients.
Please spend a few minutes to get to know me, and to check out the services I provide. I'm sure you'll find lots of useful and interesting information.
On this page you'll find some personal information about me.
Why did I decide to create this page?
Well, first of all, my clients should know and understand the person they are allowing into their home or office, to whom they are entrusting the keys to their castle or repository of commercial secrets…
Secondly, as I have already gathered from talking to existing clients, they are often curious to learn how I came to Australia, what brought me here, what I think of the place, what I did before.
I've created this page as a list of the questions that I hear most often and answers to them.
So, let's start!
Q. Where are you from?
A. I am from the city of Saint Petersburg in Russia. That's where I was born and lived until I decided to immigrate to Australia.
Q. Have you been in Australia for a long time?
A. I arrived in this sunny country in September 2014.
Q. What did you do before coming to Australia?
A. I graduated from the Saint Petersburg University of Economics and Finance in 1997 and after that I worked in the fields of economics and accounting. Before leaving for Australia I set up a small travel agency that provided travel services for disabled people.
Q. Do you have a family?
A. Yes. I'm married and have two children. My parents live in Russia.
Q. What do you do in your spare time? Do you have any hobbies?
A. I'm actually quite similar to many Australians in this regard. In Russia I used to enjoy kayaking, fishing and recreational diving. I'm keen to take up nearly all of these again, I'm just a bit wary about the underwater diving. Especially after hearing about the increase in shark activity around Perth.
Q. Do you like living in Australia?
A. I am very glad we moved here. There's a different pace to life in this country. The climate is fantastic (by comparison, according to statistics there are only 60 sunny days a year in Saint Petersburg) and the people are friendly and welcoming. My family is here, I have work and can do that I like . What more could a person want?
FAQ on professional cleaning
Q. Are clients expected to tidy up and put away items before cleaning starts?
A. It's appreciated if they do. We sometimes rearrange things on shelves in order to clean. Really, the most that we can do is put scattered items on beds, couches and chairs if they prevent us from cleaning.
If you want to change your bed linen, it's advisable to do this before we start cleaning, because lots of dust can accumulate around even washed sheets, and you don't want to be breathing in that dust later.
In terms of commercial cleaning services, I realise that you don't always have time to tidy your desk. I always warn commercial clients that we only wipe down uncovered parts of desks. We never touch or move papers or equipment.
Q. What is your hourly rate?
A. I never quote by the hour. I quote according to the job – the amount of work required and how difficult it is. I offer my clients a 50% discount on the first two jobs. This gives the client the opportunity to be see that the price for the job is fair and that the quality is in line with that price.
Q. Do you enter into contracts? If not, how do you set prices for your services?
A. I don't work under contracts. I let the client have freedom of choice. If, for whatever reason, the client doesn't want to use my services any more, no problem. Our relationship isn't based on a contract, which can be difficult to break. Instead, the price is fixed for a year in a written proposal that I offer to the client.
Q. Clients entrust you with their security-coded keys. How do you ensure the security of this information?
A. Every client is given their own unique number or nickname. The only things written on key tags are that number or nickname and the alarm code. No addresses, no names, nothing that could let someone find the property if the key was ever lost. Keys are never left inside the car, they are always on my person.
Q. Are you insured?
A. Of course. Insurance is a compulsory condition of purchasing a V.I.P franchise.
Q. How do you keep your equipment clean? Do you wash your mops, and if so, how?
A. I have purchased a separate washing machine that enables me to thoroughly wash mop heads, not just rinse them. Also, I never use a mop at more than one premises at a time. I always have a clean one ready to use for each new premises.
Q. What about cleaning cloths?
A. The same applies to cleaning cloths. I have colour-coded cloths for different areas: green for kitchens, red for toilets, blue for general areas. Only clean cloths are used for each new premises.
Q. Often cleaners won't move photo frames, figurines etc. in order to clean underneath them. What do you do?
A. We discuss this matter with the client when we assess their premises. The thing is, this work has to be done very carefully and it takes extra time, sometimes a lot of extra time.
Q. Do you use chemicals to clean floors?
A. Usually, yes. But some families with children and pets ask me not to use chemicals when cleaning floors. This is decided at the negotiation stage.
Q. Do clients have to pay for house cleaning immediately after the job is done?
A. I only operate through a bank account. I send invoices both to commercial clients and individuals at the end of the month.
Q. Do you wash dishes when cleaning kitchens?
A. We decide on this when negotiating with clients. They often don't want this service. But that doesn't mean we'd leave a couple of unwashed cups in the sink. Of course, we'll wash them.
Q. You use a vacuum cleaner. How often do you clean the filters?
A. I don't just clean them, I wash them thoroughly on a daily basis. I have a supply of filters which I change every day, and sometimes after cleaning a number of premises.
Q. Do you work on the weekend?
A. I am a husband and father of two children. I try to spend weekends with my family. But in extreme situations I can work on weekends at a client's request. From my experience dealing with clients, I can say that in any event we can find a day and a time that's convenient for you.
Q. Why should people hire you for the job? There are a lot of cleaning companies out there.
A. I agree, there are many companies offering similar services. However, the testimonials I get from my clients – both private and commercial – show that the quality of my services far exceeds that of my competitors. I pay more attention to the smaller details, and that's something my clients value.
Q. What would you say to people who aren't sure if they need professional cleaning services or not?
A. I would assure them that we use the very best cleaning techniques and equipment to clean your home or office quickly and to the highest quality standards. Meanwhile, you can spend that spare time with your kids, your family or simply relaxing. As one client said to me: "You know, Maxim, I really look forward to coming home on the days when you clean our house." That tells me I'm creating a pleasant atmosphere in people's homes and workplaces, in fact I'm putting them in a good mood. Aren't comments like that the best reward for a job well done?
​Solar Panel Cleaning
Have solar panels on your roof? Pollution, dirt and bird droppings can certainly impact the amount of sunlight reaching the solar cells and therefore reduce the amounnt of power they produce.
If you want us to clean your solar panels so you can maximise the amount of energy produced from them, then give us a call on 13 26 13.
​High Pressure Cleaning
High pressure cleaning is a chemical free process that uses jets of high pressure water to clean surfaces of mould, dust grime and residue.
We can also clean walls and buildings with the high pressure cleaner.
Many of our customers have been very impressed with the results from this machine.
For house washing we use only low pressure washing using a water brush. This avoids any water damage.
Window Cleaning
We can provide window cleaning as a once off or part of your regular cleaning routine.
Nothing looks better than shiny clean windows. Our customers agree also.
Your Home is Unique
Once I begin cleaning your home, I am always available on the phone or to meet in person as needed.
Feel free to leave a note on your kitchen table if there is anything that has changed.
I am quite flexible and understand that my customers' circumstances change from time to time.
Give V.I.P. a call on 13 26 13 for a quote - I look forward to meeting you!
The quote process
When you request a free, no obligation quote by calling 13 26 13, we will meet and go through your homes cleaning needs.
We'll discuss the bathrooms, bedrooms, lounge, family room, kitchen, hallways and all other spaces.
Here is a perfect time to let me know any particular requirements you and your family may have.
From this meeting I provide a quote for your consideration.
Oven Cleans a Specialty
A clean oven gets to temperature more quickly and stays at that temperature with minimum fluctuation.
This enables your cooking to be a perfect as my cleans!
Normally ovens need a thorough cleaning annually. Give V.I.P. a call on 13 26 13 for a quote on cleaning your oven.
Exit Cleans and Spring Cleans
All landlords require a vacating tenant to orgainse an Exit Clean.
This is a thorough clean of the entire house to ensure it is ship shape for new tenants.
For a home owner these can be called Spring Cleans (although they can be done in any season!).
Bathroom are a passion of mine!
Next time you visit your bathroom, have a look at the corners of the room where the floor meets the walls.
There is often grime build up there that many cleaners miss.
Give V.I.P. a call on 13 26 13 - I'll have your bathroom looking clean and shiny in no time!
Reliable, fully trained Commercial Cleaners
​We ​also provide Commercial Cleaning Servces.
Our happy commercial cleaning customers include retail stores, offices, real estate agents, light industrial, government departments, sporting clubs, councils, and medical centres.
Most customers spend most of their waking life at work so it needs to be clean and tidy. When you request a quote, we meet with you in person to go through your workplace's specific cleaning needs.
We discuss your kitchen and bathroom cleaning needs. From there we go through the cleaning needs of offices, boardrooms, floors, windows, reception, common areas and any additional areas within your workplace.
From there we provide a no obligation quote for your consideration.
Free, No Obligation quote
Call 13 26 13 for a free no obligation quote. I look forward to meeting you!
Please select the service you are interested in below:
Testimonials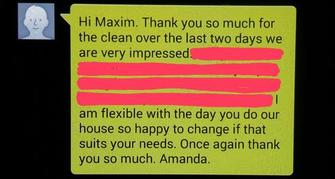 From:
---

From:
---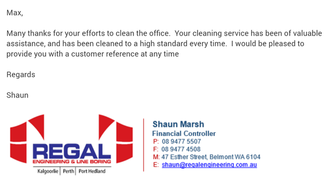 From: Shaun Marsh
---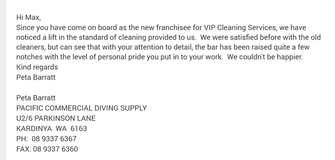 From: Petta Barratt
---