Request a quote. Your local franchisee will call you.
Commercial Cleaning Services in Moorooka and the Brisbane City area.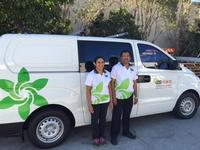 I'm Sharmila Gandhi. I work in the franchise with my husband Indravadan Gandhi (pictured).
We service Moorooka and surrounding suburbs such as:
Kuraby 4112
Oxley 4075
Sherwood 4075
Sunnybank 4109
Woodridge 4114
The Quote Process
When you request a no obligation quote, We will meet with you personally and go through each section of your workplace including the kitchens, bathrooms, staff areas, offices, boardroom and any common areas. Then put together all the cleaning requirements you would like us to include in the service.
From there I provide a quote for your consideration.
I can also provide you with the copies of Police Clearance Certificate and Certificate of Public Liability Insurance on request.
Good Communication
When we begin cleaning your workplace we provide you with a Communication Book. This notebook allows you to write down any messages for us that relate to your onging cleaning needs.
We check this book at the beginning of each clean ensuring that you get the service you require. Communications can also be done via email as we regularly check our email and reply to where necessary
We also report if we see anything unusal happening in your property or anything that needs to pay attention.
I can be contacted via email or phone at anytime and also able to meet in person if needed.
Body Coporate Clean
We also provide cleaning for the common areas of the appartments, shopping centers, carparks etc.
Exit Cleans
Moving office can be stressful for all involved, and many landlords require the office to be professionally cleaned upon the expiry of a lease.
Let us take care of your cleaning needs for your office move. We are able to provide clean before you enter a new office, or when you have left your current office.
No obligation free quote
Please call 13 26 13 for a no obligation quote for cleaning your workplace - we look forward to meeting you!
Please select the service you are interested in below: