Request a quote. Your local franchisee will call you.
House Cleaning Services in the Narre Warren area.
The Quote Process
When you enquire about a no obligation free quote by calling 13 26 13, I'll meet with you personally and go through, in detail, the cleaning needs of your home.
I'll discuss the cleaning needs of your kitchen, bathrooms, bedrooms, hallways, lounge rooms and any other rooms in your home.
Now is a great time to mention anything in particular about your home, like pets for example.
From there I'll provide a quote for your consideration.
Communication
If circumstances change or you need me to pay attention to a particular facet of your home, please leave a note on the kitchen table - I'll check this at the beginning of each clean.
I am also readily available via mobile for an emergency clean and are able to meet with you as needed (if we don't catch each other when I clean your home).
Oven Cleans a Specialty
A clean oven gets to temperature more quickly and stays at that temperature with minimum fluctuation.
Normally ovens need a thorough cleaning annually with a spruce up quarterly.
Give V.I.P. a call on 13 26 13 for a quote on cleaning your oven.
Exit Cleans and Spring Cleans
Most landlords require a vacating tenant to organise an Exit Clean.
This is a thorough clean of the entire house to ensure it is ship shape for new tenants.
Window Cleans
I am able to provide a window cleaning service either as a once off or as part of the regular cleaning routine.
Free, No Obligation Quote
Call 13 26 13 for a free no obligation quote - I look forward to meeting you!
Please select the service you are interested in below:
News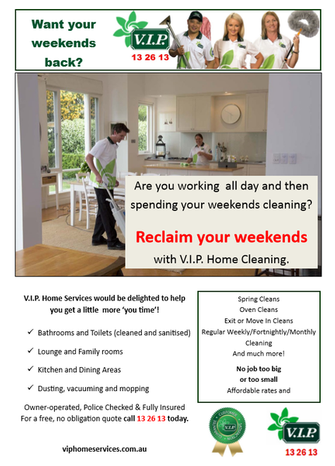 Need your weekends back instead of spending them cleaning?
27-Jan-2019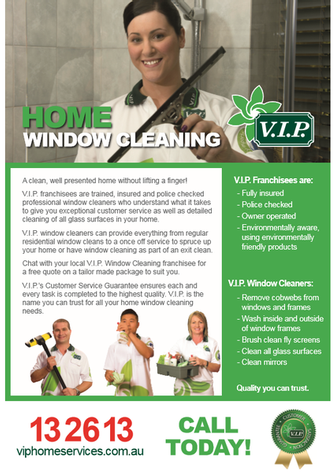 Need your windows cleaned? Give me a call.
27-Jan-2019
Photos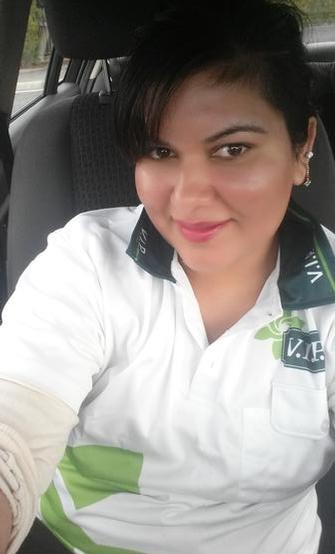 RESHMA SHALINI PRASAD
Testimonials
From: Mary
Reshma is very friendly, professional and accomodating for anything that l wanted done. She made sure that l was satisfied with what she had done before proceeding with further cleans. l am definitely pleased with her service.
---
From: Lauryn
Thanks very much for today. Great job again.
---
From: Carolyn
Hello Reshma, it was so wonderful coming home to a beautifully cleaned house. I didn't realise just what I wasnt keeping up with. Thank you so much.
---
From: FAYE
Hi reshma thank you for the good clean I am so happy
---
From: Jennifer
Thank you so much, it's wonderful to have such a clean home.
---
From: Natelie
Hi Reshma. Thanks for today, the house looks good.
---
From: CHRIS
Hi Reshma, thank you for the good job you have done. We are so happy.
---
From: Julie
Hi Reshma. Thank you for the clean, I am very happy with the job you have done :) Enjoy your weekend.
---
From: Hayley
Great, thanks Reshma. The house looks so good, well done.
---
From: Megan
Thank you Reshma for cleaning my house. I am so happy the house looks so clean.
---
From: Lyrae
Morning Reshma - I've just sent the funds through for your awesome work on Friday.
OMG - looks amazing thanks.
Thanks so much. Its fabulous having a clean bathroom.
Thanks again for everything.
---
From: Rebecca
Hi Reshma, appreciate you stepping in for Steve & Julie. You did a good job!
Rebecca
---
From: Jenny
I like the way you cleaned my house. Thank you for doing a brilliant job ... will call soon towards beginning of November tentatively.
Jenny
---
From: Jay
Hi there, the clean looks good. I'll let you know if I come across anything that can't wait to discuss next week.
Jay
---
From: Sue
Hi Reshma,
I thought the clean was great. I was really pleased. Thank you.
From Sue
---
From: Ashlea
Hi Reshma, the clean was great. Thanks again for your services. I don't think the apartment was even that clean when I first moved in!
From Ashlea
---
From: Reene
Hi Reshma
Sorry for the late reply. The house clean was great thank you!
Reene
---