Request a quote. Your local franchisee will call you.
House Cleaning Services in Victor Harbor and the Adelaide area.
GOVERNMENT INFECTION CONTROL CERTIFIED (COVID-19) APRIL 2020
Why you should call me
I am the business owner and cleaner. There is no different cleaner each time. I offer a cost effective price for cleaning your home.
Also, for each home I use only clean cloths no harsh chemicals unnecessarily.
Oven Cleans a Specialty
A clean oven gets to temperature more quickly and stays at that temperature with minimum fluctuation.
This enables your cooking to be a perfect as iour cleans!
Normally ovens need a thorough cleaning annually. Give V.I.P. a call on 13 26 13 for a quote on cleaning your oven.
Exit Cleans and Spring Cleans
Most landlords require a vacating tenant to organise an Exit Clean.
This is a thorough clean of the entire house to ensure it is ship shape for new tenants.
For a home owner these can be called Spring Cleans (although they can be done in any season!).
The quote process
When you request a free, no obligation quote, I meet with you personally at your home or office and go through your window's specific cleaning needs.
We'll discuss the sources of dirt, dust and grime in your immediate area and go through the cleaning requirements.
This is the time to provide me with any areas that you want me to pay particular attention to when I clean your windows.
I'll then provide a quote for your consideration.
Free, No Obligation quote
Call 13 26 13 for a free no obligation quote. I look forward to meeting you!
Please select the service you are interested in below:
Photos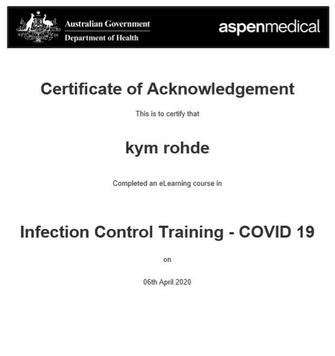 GOVERNMENT INFECTION CONTROL CERTIFIED (COVID-19) APRIL 2020
Testimonials
From: Rosemary Wallage
Kym and Sue Rohde have taken care of our home for the last 6 years. We have found them to be diigent and careful with their cleaning considerate and flexible with their delivery of this service. In addition they take a planned approach to the cleaning and will add unscheduled tasks as necessary ie, cleaning the fridge, air conditioner filters and outside areas. They have also won the heart of our border collie and we are happy to leave her in the house when they clean knowing they will settle her down and ensure she is safely shut in if we are away and still leave the house clean and tidy . Needless to say we trust them explicitly.
---
From: Helena Bruyn
Kym and Sue have been cleaning my home regularly for several years. I find them very reliable and trustworthy. They do a great job, i love coming home to a clean house on cleaning days!
Cheers,
Helena
---
From: Estelle Farwell
Sue and Kym have been our regular cleaners for a number of years.
They are courteous, punctual and reliable. Their work is of the highest standard and they are happy to do any extras when required. It is a pleasure to welcome them to our home and we are delighted with the fresh clean enviroment we find after they have finished their work.
regards
Estelle & David
---
From: Mary White
To whom it concerns,
Sue and Kym Rohde have been looking after our house for eight years. They are the most dedicated, hard working and trustworthy people that I have encountered. They do an excellent job in cleaning our house, are here when they say they will but are always completely accommodating to the comings and goings of our family. Kym and Sue do way more than simply clean. They regularly do a lot more including cleaning the oven, windows and whatever they see needs to be done. They are happy to put our bins out and take them in when we are away. On one occasion Kym repaired a broken fuse-box door.
I cannot recommend Kym and Sue highly enough.
Regards
Mary White.
---