Request a quote. Your local franchisee will call you.
Garden Services, Maintenance & Lawn Mowing in the Maylands area.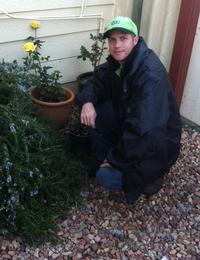 Happy Customers
My happy customers include home owners, real estate agents, retail stores, warehouses, factories, offices, body corporations, strata corporations, schools, sport clubs and government departments in and around Maylands.
I currently have capacity for ongoing or once off work so call me on 13 26 13 for a free no obligation quote - I look forward to meeting you!
Lawn Maintenance
You deserve a beautiful, lush green lawn that can handle the Perth climate.
Let me look after your lawn and make it the best it can be.
A typical service will include consultation with you on your lawn's needs and the goals you have for your garden, mowing, edging, weeding, mulching and fertilising as required.
Garden Maintenance
A beautiful garden is a source of pride for your home. There is nothing better than driving home after a long day of work and seeing a beautifully tended garden.
I can mulch, weed, fertilise, trim, prune roses and hedge your garden as appropriate.
I can also consult on the appropriate plants for Maylands and surrounds.
Lawns, Gardens and Landscaping
Is your garden looking a little tired?
Is there a lot of under utilised space in your garden?
Do you have tracks throughout your garden that really should be paved?
Sometimes it necessary to start again or do a serious makeover to improve your garden and make it the best it can be.
Give V.I.P. a call to meet with you on 13 26 13 and go through what your needs are for your new garden.
From there I'll provide an obligation free quote for your consideration.
No Obligation Free Quote
Call 13 26 13 for a no obligation free quote. I look forward to meeting you!
I Service:
MAYLANDS 6051
INGLEWOOD 6052
BEDFORD 6052
MOUNT LAWLEY 6050
ASCOT 6104
EAST PERTH 6004
HIGHGATE 6003
MENORA 6050
​and surrounding suburbs.
Please select the service you are interested in below:
Photos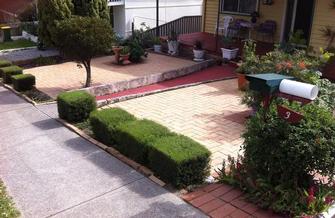 Garden tidy up in MAYLANDS
Just a quick garden tidy up in MAYLANDS to bring it back up to standard.
This involved hand weeding the gardens, hedging the Diosma and slashing the weeds from the paving. I then finished by blowing the paths and paving down. My client was very pleased with the results.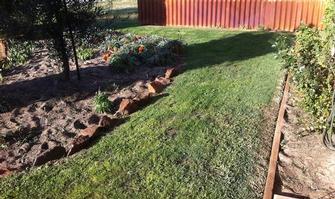 Before Mulching in BEDFORD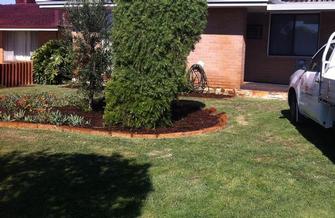 After Mulching in BEDFORD
This is a small Mulching job I did in BEDFORD.
Mulching your gardens is very important. Mulching adds organic material to the soil and retains moisture, which is especially important for Perth's sandy soil and hot summer. Mulch also suppresses weeds and moderates soil-temperature fluctuation, keeping your soil cooler in summer and warmer in winter. Mulch also adds instant street appeal to any property. Which is not only useful for the proud gardener but extremely important if you are renting or selling your property.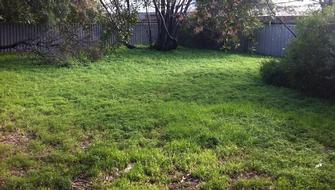 Lawn Rescue BEDFORD before
Have you lost control of your lawn, is it more weed than lawn?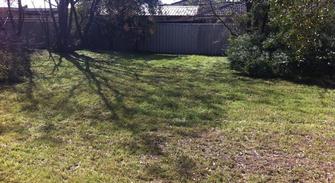 Lawn Rescue BEDFORD after
No Problem, a good mow as shown in the above picture is all it takes to turn an over grown weed patch into a usable family friendly backyard. After this initial mow, regular mowing will suppress the weeds and improve a degraded lawn. But why stop there? Once the lawn is under control we can help it thrive by using soil improver, fertiliser, wettasoil, selective herbicides and overseeding to further enhance and rejuvenate your lawn.
Testimonials
From: Testimony Bedford
Daniel was a fantastic help in tackling the huge lawns at the house we were renting in Bedford. A job that usually took us all day, Daniel took away all the stress and hard labour away from us to deliver beautiful lawns. The quality of his work is second to none, as it is obvious that he shows great pride in both his gardening abilities and wonderful customer service. I highly recommend contacting Daniel for all of your gardening needs!
---