Request a quote. Your local franchisee will call you.
Garden Services, Maintenance & Lawn Mowing in Unley and the Adelaide area.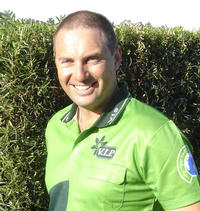 Happy Customers
My happy customers include homeowners, renters, landlords, real estate agents, government departments, body and strata corps, retail shops and offices.
I service Unley 5061 and surrounding areas such as:
Kings Park 5034
Kingswood 5062
Torrens Park 5062
Unley Park 5061
Give V.I.P. a call on 13 26 13 - I look forward to meeting you!
High Pressure Cleaning
I have an industrial high pressure water cleaner.
This is perfect for removing moss and lichens from driveways and walkways that have become slippery over time.
I can also clean walls and building with the high pressure cleaner.
Many of my customers have been very impressed with the results from this machine.
Check out my High Pressure Cleaning videos here:
Hedge Trimming
A well pruned hedge is a source of pride and can be a feature for your home. Hedge trimming is my speciality.
If you have a tall hedge along your boundary or individual trees, I have the tools and the skills required to make your hedge look fantastic.
Tree Work
With over 11 years as a farmer I have learned how to do most chainsawing jobs.
I can perform tree maintenance work as needed.
If you have a tree overhanging a gutter and the possums are getting in - or if you have a dead tree that needs to be removed, then give V.I.P. a call on 13 26 13 for a no obligation quote.
Lawn Maintenance
You deserve a beautiful, lush green lawn to be proud of and that the kids can play on.
Let me save you some time which you can spend on other important things.
A typical lawn maintenance plan includes mowing, edging, fertilising and weeding.
No lawn too big - no lawn too small!
Garden Maintenance
A beautiful garden is a source of pride for you.
I want your garden to be the best it can be.
To that end I can prune, hedge, weed, fertilise and consult on plant selection for the Unley area and soil conditions.
Gutters
Full and blocked gutters are a fire risk in the Summer and a flood risk whenever it rains.
Full gutters can also end up transporting dirt, leaf litter and other rubbish into your rainwater tank which is not a good thing.
Let me look are the dangerous job of cleaning your gutters for you.
I can do it as a once off or as part of my normal garden and lawn maintenance plan.
Handyman and Home Maintenance
I want you to have a weekend enjoying time with your family rather than spending all that time doing little odd jobs around the house.
If you have a leaking tap or a gate that is off its hinges or maybe a little fix-it job - give V.I.P. a call for an obligation free quote on 13 26 13 and have your weekend back!
Yard Cleanups and Rubbish Removal
Not only do I remove the prunings and trimming from the work I do for you, but if you have done your own cleanup or working bee, let me organise the rubbish removal.
No obligation free quote
Give V.I.P. a call for a no obligation free quote on 13 26 13. I look forward to meeting you.
Please select the service you are interested in below:
Photos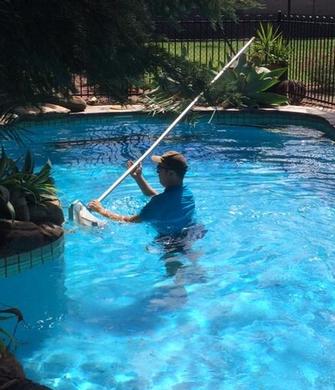 Going above and beyond for a regular client.
This job required trimming of very large Agaves which could only be done from in the pool. I also used the pool scoop to clean up some of the mess in the water.
Lawn Installation - before & after
What a difference a good lawn makes!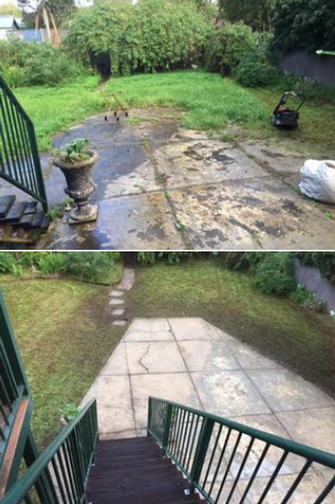 Lawn Mowing & High Pressure Cleaning - before and after
What a difference cleaned pavement can make to the overall look.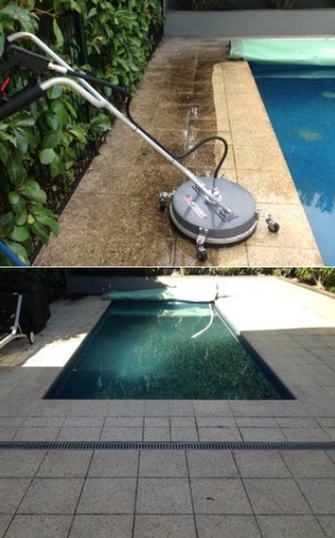 High Pressure Cleaning in Unley - before & after
Look at the results from my high pressure cleaner. This customer was very happy with the results.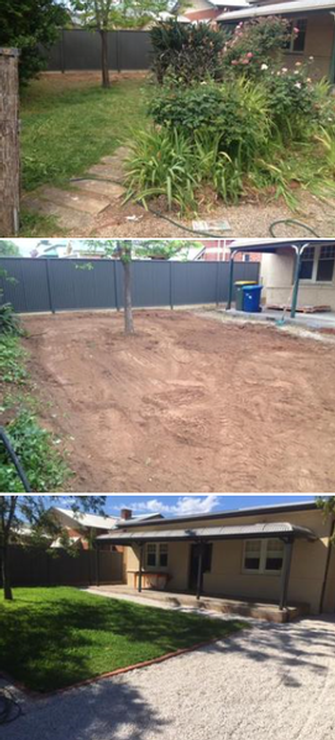 Lawn Installation - before, during & after
We have removed the majority of the front garden and lawn with a bobcat and have prepared the soil by bringing in 100mm of sandy loam ready for the new lawn to be laid.
We have also installed pop-up sprinklers which will automatically water the lawn from a timer.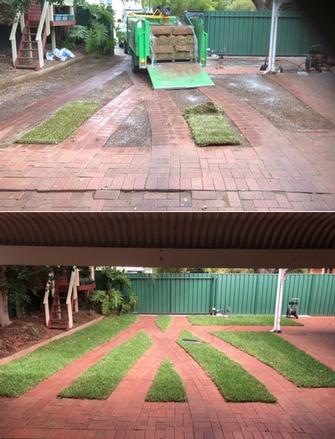 Lawn Installation - before & after
The customer was very happy with the end results. What a difference a nice green lawn makes to this area.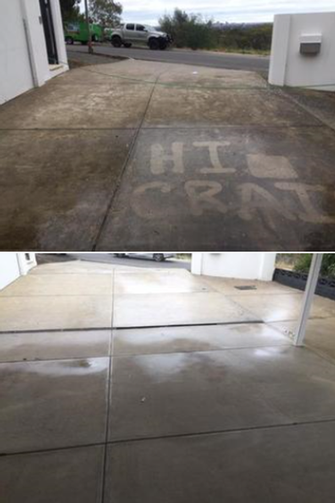 High Pressure Cleaning - before & after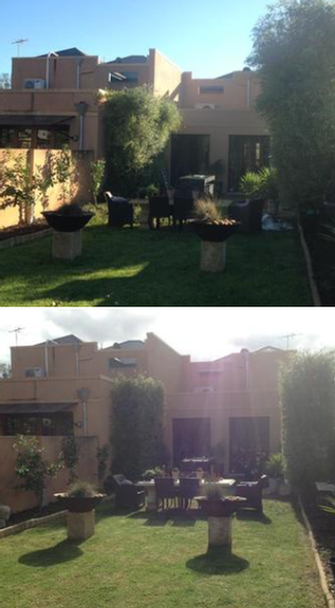 Lawn mowing & hedging in Unley - before & after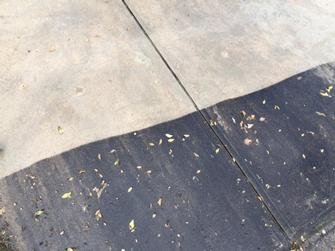 Check out the results of my industrial high-pressure cleaner!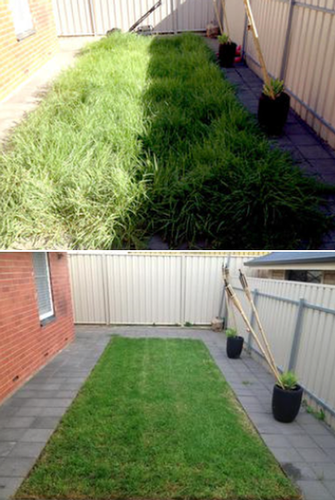 Overgrown Lawn - before and after
The after photo was taken 6 weeks later and included lawn care such as fertilising and regular mowing.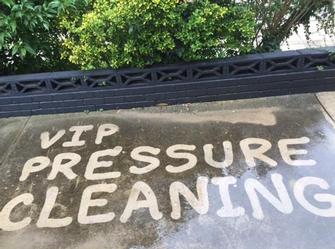 V.I.P High Pressure Cleaning
Testimonials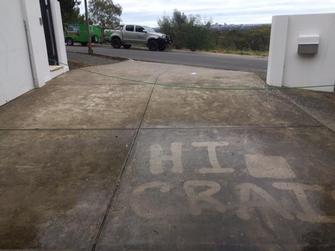 From: Craig from Torrens Park
I had a driveway that was the colour of mud. Looked like it hadn't been cleaned since it was laid.
Tyson came along with his high pressure cleaner and in just a few hours cleaned it the point where it was almost unrecognisable.
It's so clean we eat our dinner of it every night….alright, I made that bit up.
Best money I've spent on home improvement in a long time.
Craig.
---
From: Sylvia
Tyson from VIP Unley is prompt, polite and provides great service with that little bit of extra care. Recently he figured out a way to prune back some shrubs that were growing in the wrong direction - he does so much more than just mow the lawns.
Tyson also pressure cleaned our 40 year old concrete with outstanding results. He explained the process, and took extra care with the edges and corners. Now the whole area looks fantastic.
100% recommended!
Cheers,
Sylvia
---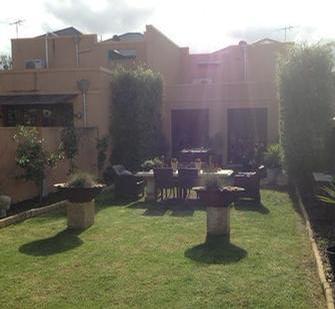 From: Anne from Unley
I write in support of Tyson Gibbs VIP GARDEN SERVICES for my Unley residence .

I have had the good fortune of Tyson providing my outdoor services for the past 3 years.
Tyson is an exceptional individual who is reliable, proactive, organised and mindful.
While at all times upholding the company guidelines he is prepared to think laterally about situations that arise from time to time.
I know I can count on him to get the work done, even when at times I need to ask for flexibility around timelines and additional work.
I have had no hesitation in recommending him to anyone in my circle who needs someone who goes above and beyond.
I independently offer these words of support.
Anne from Unley
---
From: John Crosby
Dear Tyson,
Thanks for your work on our driveway the other day.
The result was outstanding and far surpassed our expectations.
A number of people have commented very favourably.
I will certainly recommend you to other people.
Kind Regards,
John Crosby
---
From: Cheerful, efficient and a great result
Tyson arrived with his new pressure cleaner ready to clean our sandstone pavers, slate and brick pavers after a major pool renovation.
I imagined something slightly larger than the Karcher we use ourselves, however it was a beast!
In no time Tyson had pressure cleaned the sandstone pavers, a more even result than that of our Karcher due to the circular motion of the pressure cleaner.
He then cleaned the slate around the pool and the garden paths equally efficiently.
Within days I have given 3 referrals so if you have a job to be done, call Tyson from VIP.
Grant and Bronne from Kingswood.
---