Request a quote. Your local franchisee will call you.
Garden Services, Maintenance & Lawn Mowing in the Maddington area.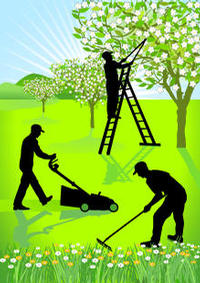 I have had a great deal of experience in the Lawns and Gardens industry prior to joining V.I.P. which has taught me everything I know about plants and garden care, including the high professional standards I uphold. I spent the previous 3 years before joining V.I.P. working at a retirement village whereby I was in charge of maintaining large scale lawns and gardens & reticulation which covered over 43 acres and 300 homes.
I have also worked at a Seeding Factory in Rockingham and at Benara Nursery, both contributing to my lawns and gardens knowledge. I have also gained tertiary education in the field with a Diploma in Horticulture.
With years of experience and knowledge in the sector and now aligning myself with a prestigious brand I hope to offer you the upmost services which are further outlined below:
Garden Maintenance
If you are looking to transform or tidy up your back/front garden you are on the right page.
We also offer garden maintenance services which is customized to meet your requirements and budget. It includes everything, from lawn mowing to pruning, hedge trimming, weeding, fertilising and plant replacement.
We also provide garden makeovers for when you are thinking of selling your house as it is a simple way to increase the value of your property.
All of our customers are proud of their beautiful vibrant gardens.
Give V.I.P. a call on 13 26 13 for more information.
Lawn Maintenance
Tired of having your weekend spoiled by having to drag the mower out of the shed?
Let us look after your lawn and save you some time that you can spend on other important things. Having a healthy and beautiful lawn does take time, patience and the right information.
We guarantee you a first class service whether you require a one-off or regular lawn maintenance. All your edges and borders will be trimmed to perfection and all accessible decks, paths and driveways blown free of dirt, leaves and debris.
We also provide a complete lawn replacement service from clearing and levelling your garden, through to nourishing the lawn, and finally lay new lawns. You can also have the appropriate approvals required for the intensive watering needs of a new lawn.
Give V.I.P a call on 13 26 13 for more information on how to get started.
Hedge trimming and Pruning
Hedge trimming and pruning are very important for the healthy growth of your plants and giving your garden that manicured look.
However, it can be time consuming and labour intensive and moreover, if you don't have the proper equipment for the job, you can end up having sad looking plants. We provide you the necessary professional services to maintain that manicured appearance and giving your garden that WOW look.
Give V.I.P a call on 13 26 13 now.
Irrigation
Are you finding it hard fixing broken sprinklers, repairing broken pipes or installing new reticulation, we are here to help make your life easy with that.
Give V.I.P a call on 13 26 13 .
Gutters
Full gutters can be a fire risk in the hotter months and a flood risk whenever it rains. It can also reduce the amount of water you get into your rainwater tanks.
Gutter cleaning is one of those jobs that people never think about until they spot weeds growing in them. The combination of leaf and moisture can damage your gutter leading to serious problems for your property. Having your gutter cleaned can save you thousands of dollars on repairs.
There has been cases where people didn't clean their gutters and over a few years the water had runoff down their wall and under their foundation causing large cracks in their property. Don't let this happen to you.
If you notice your gutters are a bit full, give V.I.P. a call on 13 26 13.
Mulching
The addition of mulch to your garden not only makes it more pleasing but also plays an important role towards healthy plants within your garden. Mulch can protect your soil from the harsh sun, preserve moisture, act as a barrier for some plant diseases, help weed control as well as help building soil structure.
Mulching can be a bit of an exhausting activity, so let us lighten the load for you.
Give V.I.P a call on 13 26 13.
Rubbish Removal
We remove the cutting and trimmings of the normal work we do for you, but if you have a cleanup on the weekend, give V.I.P. a call on 13 26 13 and we can arrange the removal of the rubbish for you.
Happy Customers
When you request a no obligation free quote, we will meet with you personally and go through your lawn and garden's needs so you can get exactly what you want for a fair price.
No obligation free quotes
All our quotes are provided free of charge with no obligation.
Give V.I.P. a call on 13 26 13 - We look forward to meeting you!
Please select the service you are interested in below:
Photos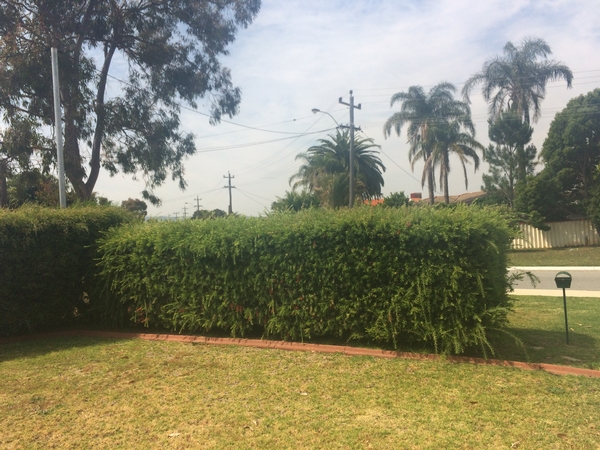 Before hedging at Maddington.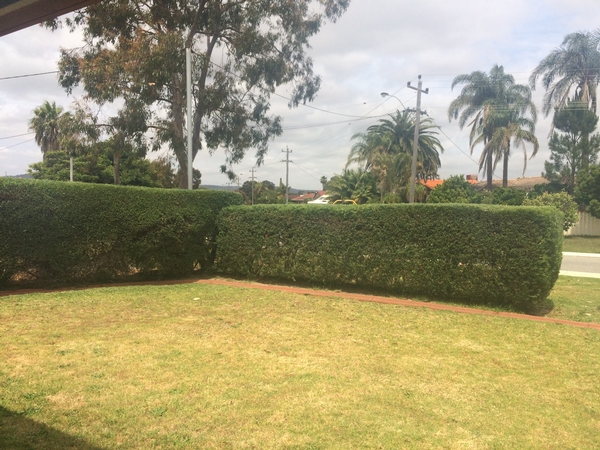 After hedging at Maddington.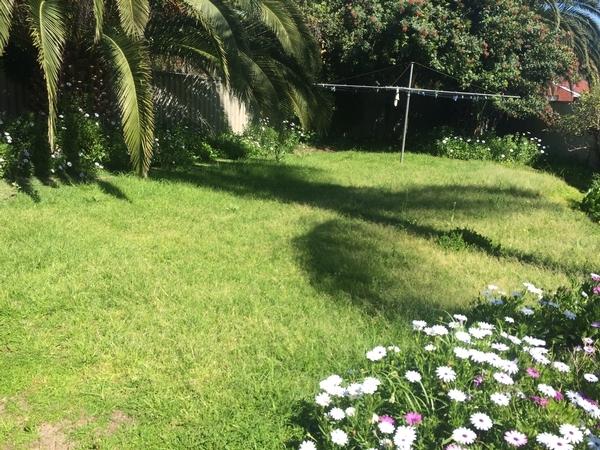 Before lawn mowing at Maddington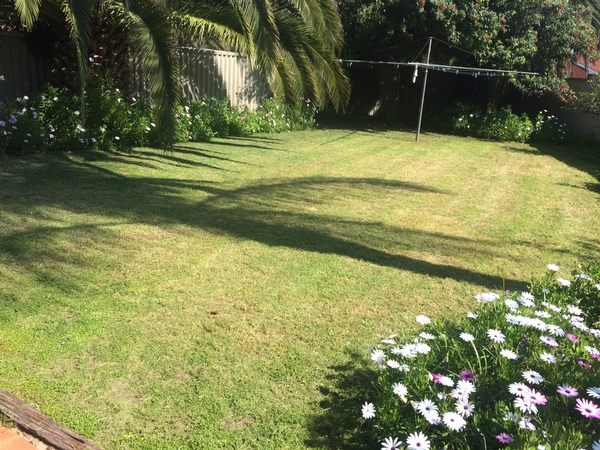 After lawn mowing at Maddington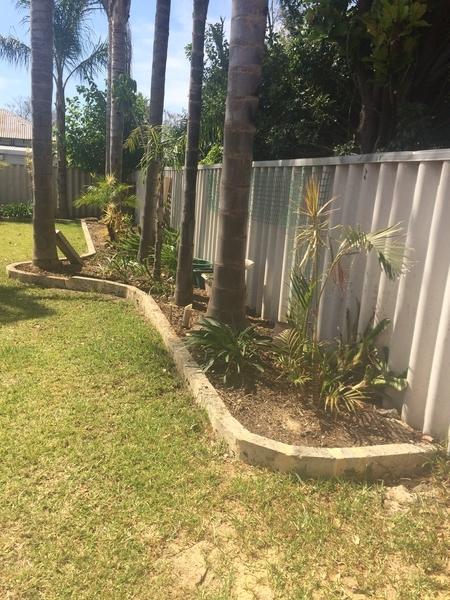 After garden clean up at Maddington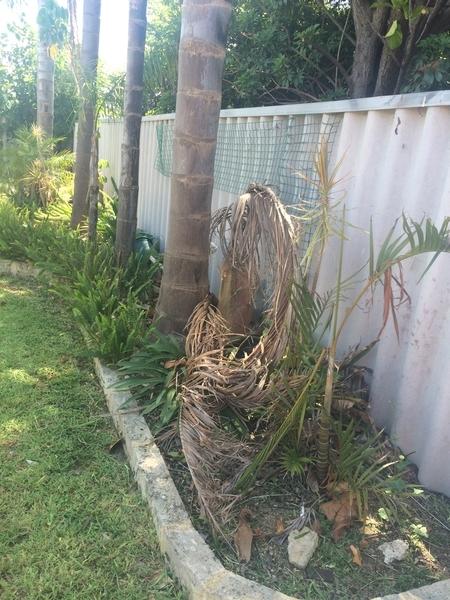 Before garden clean up at Maddington
Testimonials
From: Daniel from Maddington
Daniel phoned VIP to say he appreciated the service Doomilla provided while he was away from home, particularly the standard of work.
---
From: Lynn
Prompt, efficient and friendly service. What more can you ask for.
Maddington.
---
From: Cate in Dianella 6059
"They were brilliant and the outcome was perfect. Great customer service and I would highly recommend them."
- Cate, Dianella 6059
---
From: Megan in Huntingdale 6110
"Prompt response and undertook the work with 2 days of the quote. Great job done!!"
- Megan, Huntingdale 6110
---
From: Terri in Canning Vale 6155
"Doomila Seenarain has been looking after my lawns for me. Happy with their service. Gardening, mowing, fertilising and weed spraying."
- Terri, Canning Vale 6155
---