Request a quote. Your local franchisee will call you.
Garden Services, Maintenance & Lawn Mowing in the Wallsend area.
GOVERNMENT INFECTION CONTROL CERTIFIED (COVID-19) APRIL 2020
We are your local husband and wife V.I.P. team! We live in Wallsend and have operated businesses in this area for the past 23 years. Scott is a Greenkeeper by trade and can assist you with his knowledge on all Lawn and Garden care.
We look forward to servicing your Lawn and Garden needs.
We service Wallsend 2287 and surrounding suburbs including:
Barnsley 2278
Cameron Park 2285
Fletcher 2287
Holmesville 2286
Killingworth 2278
Maryland 2287
Seahampton 2286
West Wallsend 2286
Lawn Maintenance
You deserve a beauitful lawn.
Let us save you some time that you can spend on other important things.
A typical lawn maintenance plan includes mowing, edging, fertilising and weeding.
We can consult with you on how to improve your lawn for your local soil conditions.
Garden Maintenance
We can mulch and prune your garden, as well as provide a rubbish removal service for rubbish in addition to lawn cutting or tree trimmings.
All of our customers enjoy their beautiful gardens on a daily basis. Let us make your garden the best it can be.
We will organise your garden's weeding, mulching, pruning and fertilising requirements.
Hedge Trimming
A well pruned hedge is a source of pride for your home.
If you have a tall hedge along your boundary or individual trees, we have the tools and the skills required to make your hedge look fantastic.
Clean-ups and Rubbish Removal
If you've done a big effort in the garden last weekend, give V.I.P. a call to safely remove the clippings, rubbish and extras that have been produced.
Our rates are very reasonable.
Free, No Obligation Quote
Call 13 26 13 for a free, no obligation quote. We look forward to meeting you!
Please select the service you are interested in below:
Photos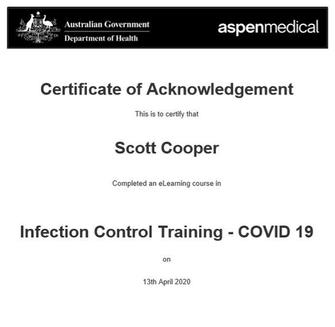 GOVERNMENT INFECTION CONTROL CERTIFIED (COVID-19) APRIL 2020
Testimonials
From: John H
Scott and Karen,
Firstly, I would like to thank you for the reliability and quality of service you provide. I had engaged several lawn services prior to yours, who were unreliable and uncommunicative. You have definitely bucked this trend!
I receive a fortnightly cutting and edging from your service.
As a suggestion, it would be great to receive some advice about when and how much I should be watering the lawn and if you recommend any additional treatments such as feeding etc. I am sure this would be different for each lawn that you service.
Thanks!
Maryland NSW
---
From: Lissa
I am very pleased with the lawn service provided by Scott and Karen at my rental property in Wallsend. I feel confident knowing that I receive a reliable and professional lawn service every time. Thanks Scott and Karen!
---