Request a quote. Your local franchisee will call you.
Garden Services, Maintenance & Lawn Mowing in the Blacktown area.
I service Blacktown 2148 and surrounding suburbs including:
Arndell Park 2148
Bungarribee 2767
Girraween 2145
Huntingwood 2148
Woodcroft 2767
Happy Customers
In all my years as a V.I.P. Franchisee I have provided reliable and honest services with a smile to many friendly and loyal customers in Blacktown and surrounding suburbs.
My customers include not only single homes and strata units; but also local business offices and light industrial. I take pride in meeting all of my customers face to face and getting to know them well.
Full Garden Service
I provide complete lawnmowing and garden care services including weed control, rubbish removal and Ride On mowing for large properties. I will consult with you every step of the way to ensure you get the most out of your garden.
Give V.I.P. a call on 13 26 13 and ask for a free, no obligation quote. I look forward to hearing from you.
Please select the service you are interested in below:
Photos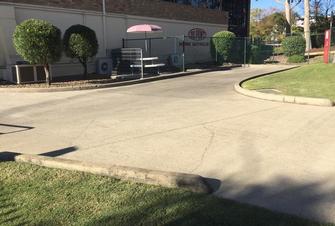 Regular Garden Maintenance at Du Point Australia PTY LTD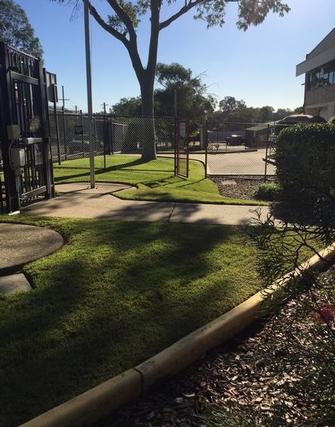 Regular Garden Maintenance at Du Point Australia PTY LTD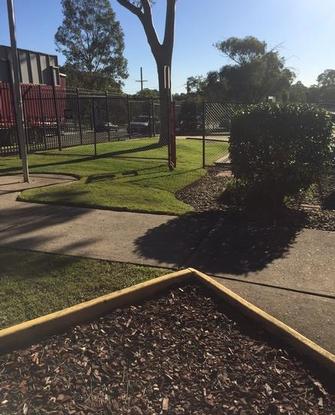 Regular Garden Maintenance at Du Point Australia PTY LTD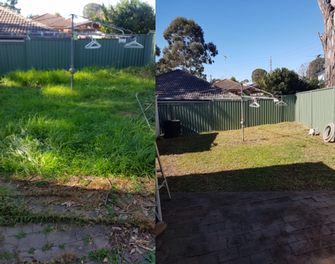 Lawn Mowing before & after in Blacktown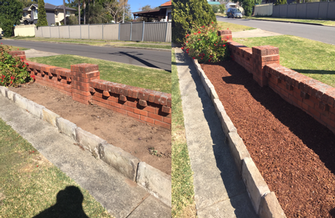 Garden Bed Revamp before & after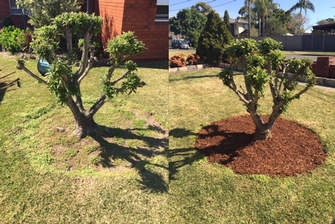 Garden Bed Revamp before & after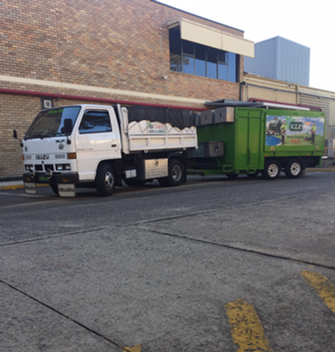 My vehicle and trailer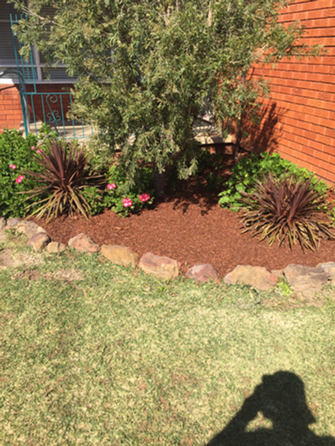 Garden Bed Revamp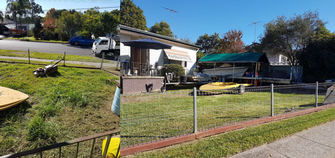 Lawn Mowing before & after in Blacktown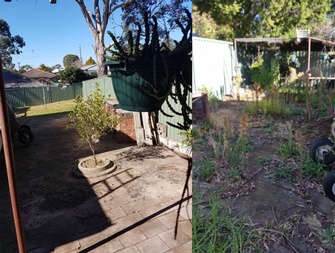 Backyard tidy before & after
Testimonials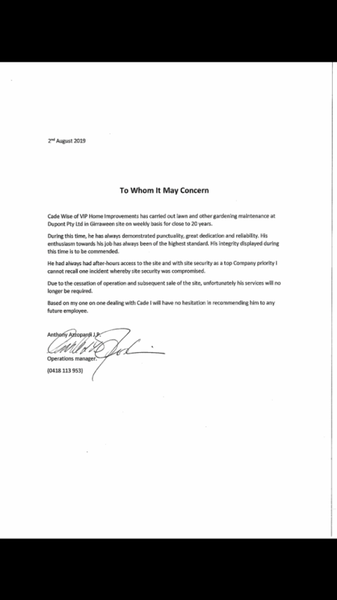 From: Anthony Azzopardi J. P. - Dupoint Pty Ltd
To whom it may concern
Cade Wise of VIP Home Improvements has carried out lawn and other gardening maintenance at Dupoint Pty Ltd in Girraween site on weekly bassis for close to 20 years.
During this time, he has always demonstrated punctuality, great dedication and reliability. His enthusiasm towards his job has always been of the highest standard. His integrity displayed during this time is to be commended.
He had always had after-hours access to the site and with site security as a top Company priority I cannot recall one incident whereby site security was compromised.
Due to the cessation of operation and subsequent sale of the site, unfortunately his services will no longer be required.
Based on my one on one dealing with Cade I will have no hesitation in recommending him to any future employee.
Anthony Azzopardi J.P.
Operations Manager
---
From: Denise and Graham Castle
I wish to advise you of excellent customer service by Mr. Cade Wise to a property formally owned by a Mrs. Maureen Gray of 35 Wattle Street, Blacktown NSW.
To briefly explain to you June 2014 my father sadly passed away. As my husband and I did other things for Mum on Saturdays with her, we were unable to do the lawns on a regular basis as we live 1 ½ hours away and were unable to get there during the week so arranged for VIP Lawn mowing and Gardening Services to look after them for my Mum. My initial phone call with Cade was very informative and he intently listened and understood what was required and was so patient not rushing me off the phone it was truly a breath of fresh air, straight away I knew he was the right person for the job, understood what needed to be done and very professional in his manner.
The very first time he did Mums lawns, I'll never forget how she phoned me nearly in tears, and when I asked what was wrong my mum said Cade's been and the lawn looks beautiful, just like it use to be before your dad got to unwell to maintain it. Cade's kindness and gentle manner and politeness was a very wonderful thing for mum and she always looked forward to the days he came to do the lawns and enjoyed the little chats Cade had with her at the end of every job. When he left there was never any mess left behind and the lawns were always immaculate.
Even when we found out in December Mum had terminal cancer she wanted to make sure Cade knew and still wanted him to keep doing the lawns, and even then the kind words and his gentle manner was such a comfort to Mum, myself and my husband. We never worried about Mum being by herself having the lawns done as Cade was such a lovely gentleman and so trustworthy and honest such wonderful qualities which sadly are lacking in the workplace nowadays. He is such an asset and fantastic person really giving VIP Home Services and Lawn mowing and Gardening a great name.
We felt compelled to let you know of the great work Cade did and I know Mum would want him also to be given the recognition he so rightly deserves. If you have some type of reward scheme or some way of recognizing excellent customer service please it would be so greatly appreciated if you could personally acknowledge this lovely young gentleman. Nowadays everyone's life being so busy the customer is always the first to complain but when a great job has been done there is never the recognition and I wanted to make sure the recognition was made.
Yours sincerely
Denise and Graeme Castle
---